Dear traders,
Last time I wrote about EURUSD.
Since then, the pair has gone down almost 500 pips before recovering a few.
Currently, the technical outlook is a lot less bullish than it was when I last wrote about it.
It does not mean the pair has run out of steam.
More likely we will probably experience just a slowdown.
Will I do anything?
Well, for now there is not particular reason for that.
One thing I have noticed is that the price is standing just around a major demand zone.
This might get spotted by new market participants soon and lead to a change in bias.
So, possible bullish move on the horizon, but before that we will need to get confirmation from price.
GBPUSD Trading Analysis 21.07.2021
I am looking at the GBPUSD.
It certainly looks more bullish than last time.
The price is positioned just around a major demand zone.
There is a pin bar candlestick on the daily chart.
I will reveal a little secret.
We've been long since this afternoon in my day trading room.
I took a long intraday trade (based on my day trading strategy), which is turning into a swing trade.
Here is the trade👇🏽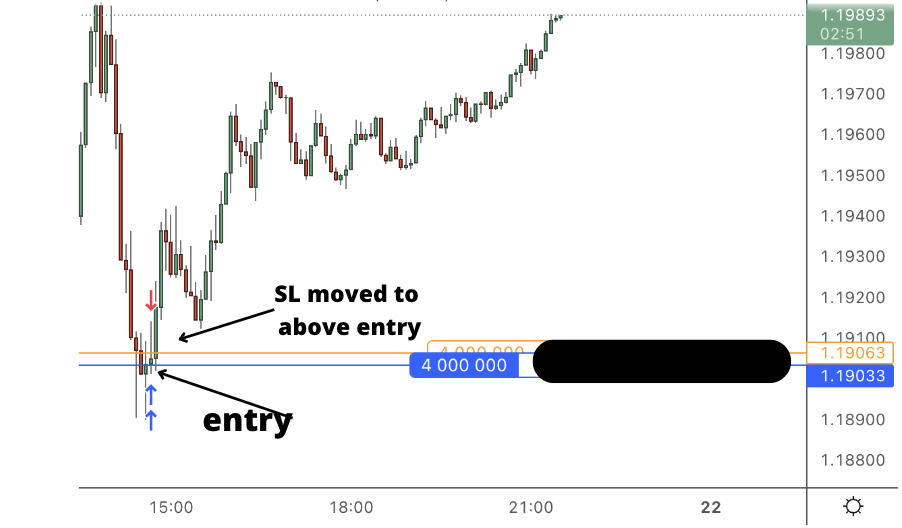 Even though this trade is already standing at roughly 1:7 as per my day trading strategy, I believe there is a chance for another re-entry.
But before that happens, I would ideally be looking for the price to come back down a bit and form a candlestick confirmation pattern on the 4H chart.
So far, the technical look bullish, but this might change at any point in time.
Happy trading,
Colibri Trader
P.S.
Did you check my recent article on 5 Real Dow Jones trades? More examples of trades like this intraday GBPUSD trade there.
P.P.S.
Sometimes two break-even trades are better than one barely profitable trade.
(Visited 215 time, 1 visit today)