Dear traders,
DAX has been down for over 500 points since the last time I wrote about it.
I've managed to get into a short trade in my day trading room and squeeze a 55R (or 1:55 risk-to-reward) trade.
This is one of the best day trades I've ever had by far.
Has this trade run its course yet?
Probably not.
This might be just the beginning of a long-term bear trend.
Am I still in this trade?
Nope.
I've held this trade for over a few days but currently am flat.
So, what am I looking at today?
USDCAD Trading Analysis 10.08.2023
Today is all about USDCAD.
I can't even remember the last time I wrote about it.
But, today seems to be the right time to cover this pair.
Looks like all of the bearish stars are aligning.
There is a major supply zone on the daily timeframe as you can see from the screenshot.
There is an inside day that formed just above this zone, which bodes well for the bearish traders.
I would ideally like to see the price retracing back to 1.3500 before considering a short entry.
Alternatively, if I see a 4H bearish confirmation in the form of a bearish engulfing or an inverted pin bar,
I might consider engaging in a short trade.
Would this happen?
Only the market can tell us.
Until then, I will patiently wait.
Happy trading,
Colibri Trader
P.S.
Let's finish on a positive note 🙂 Here is just a screenshot of the 1:55 risk-to-reward DAX trade I took in the trading room. If you want to join, you can get free access by joining our Day Trading Programme HERE: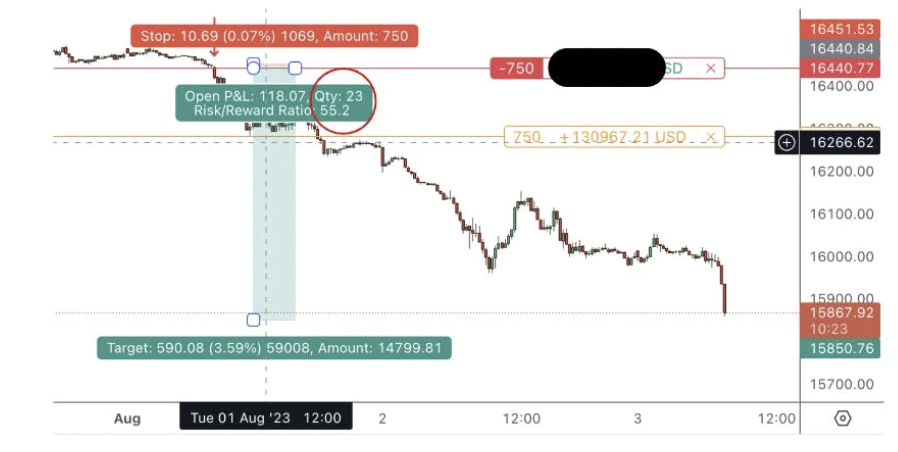 (Visited 142 time, 1 visit today)