Weekly Trading Recap and More
Last trading week was an exciting one for trading. Trading is not always easy, but some weeks are just as good as textbook examples.
Weekly Trading Recap and More- Last week I did take two trades. The first one was hit because I did placed a very tight stop-loss- just about 45 pips. It was probably a mistake, but at the same time, I have minimised my risk. Placing stops is an art by itself, so maybe this time I did not get it right. The good news is that my other trade- USDCAD went even better (faster) than expected. I went long around 1.3170 and the price went up to 1.3437 before closing at 1.3375 on Friday. This move was a quick one- over 200 pips! I start feeling a bit hesitant about the pair, since there is a pin bar on the daily and just before close, I have cut 75 % of my position.
I still believe that USDCAD's move has a bit more potential to the upside, but the pin bar is already giving me a red flag. On the other side, the EURUSD trade from last week (the stopped-out one) seems more bullish. There was a bullish engulfing pattern and looks like 1.0500 area has attracted a lot of bullish interest.
Weekly Trading Recap and More- The pairs I am looking at in the new week
DAX ???
The trading setup that DAX is showing is more bearish than bullish.  There is an inside bar that formed on Thursday's daily candle. The only obstacle here is the strong bullish trend, that I am not really willing to go against. There is probably some pips to be made in a contrarian trade, but I will not do anything for now. I might be looking for an intraday setup and then could do a more speculative short-term trade.
GOLD ???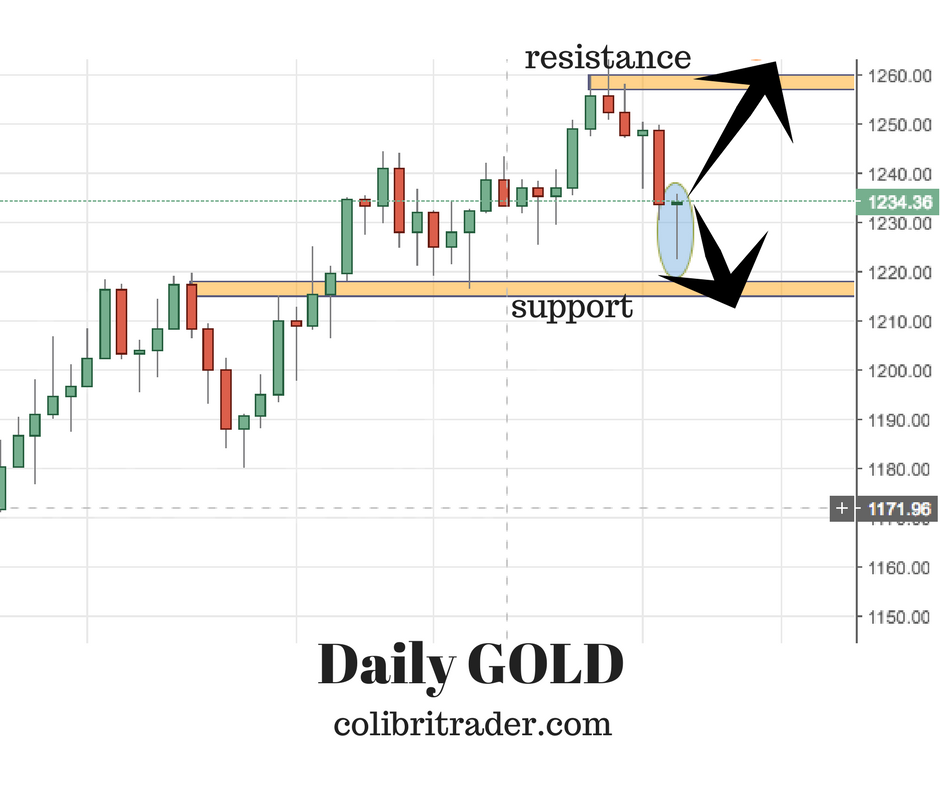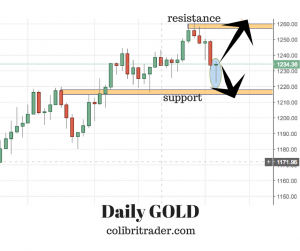 On the other side, GOLD is showing some bullish momentum. After a short break, it looks to be again on the rise. The daily candle is a pin bar and it looks like it has formed just above a support level. What I would like to see is the price to dip below the support level and then to make a pin bar. So far, price has not dipped below the imminent support level, which makes me extra cautious. But we have the retracement in place and a candlestick pattern in line with the main trend. I would ideally be looking for a confirmation from the intraday charts.
Happy trading,
Colibri Trader
P.S.
If you have not yet check out my recent article on MACD, please do so HERE
(Visited 401 time, 1 visit today)