Dear traders,
Before I proceed with the weekly trade setup analysis, I would like to go over a live trade from last week.
I have been sent an email from one of my followers, who managed to short the Dow precisely on the top (as you can see from the chart below).
I cannot express how happy I am to see that my followers/students are doing great and sometimes even surpassing me.
Here is his email (I have erased his email for confidentiality reasons).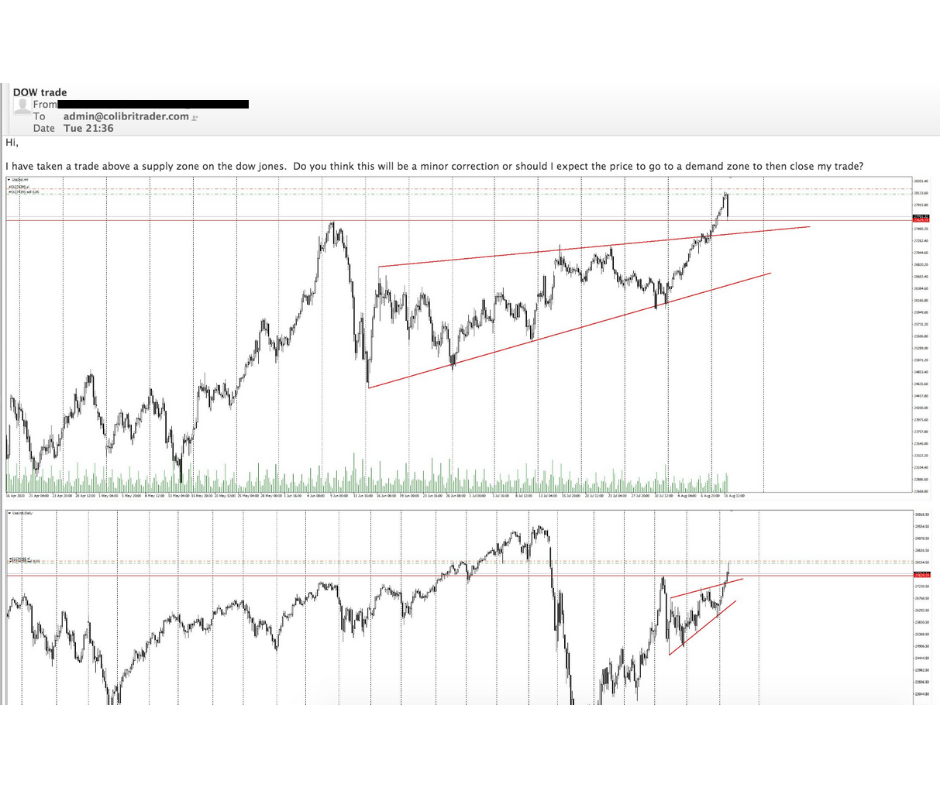 The top chart is the 4H Dow Jones chart.
The bottom chart is the Daily Dow Jones chart.
It was a short-termed trade, but you can see how precise the entry is.
These were roughly 400-500 points with a tight stop-loss.
What else can you ask for in a trading week 🙂
Check out my trading strategy if you want to get in-depth knowledge on how to enter in trades that maximise your returns.
My trading results
It has been an active indices trading week for me, too!
I have managed to get into a profitable Dow trade and as some of my students have seen, my DAX day trading system does really work well on Dow Jones, too!
This is certainly good news for everyone 🙂
I have been recently trading more actively the Dow, since there was more volatility/news related to this instrument.
I have also been long in USDJPY for about 100 pips already.
I've shared my thoughts about this pair last week and you can check this out HERE if you want to come back to my trading analysis from last week.
Weekly Trading Setups
After doing my weekend analysis I have found a few interesting setups from the weekly/daily charts:
GBPUSD Weekly Setup
I am looking at the weekly chart of GBPUSD.
It looks like we might see some more bullish behaviour in the weeks to follow.
There is an inside bar on the weekly chart and it bodes for a continuation of the uptrend.
Let's see where this will take us in the weeks to come.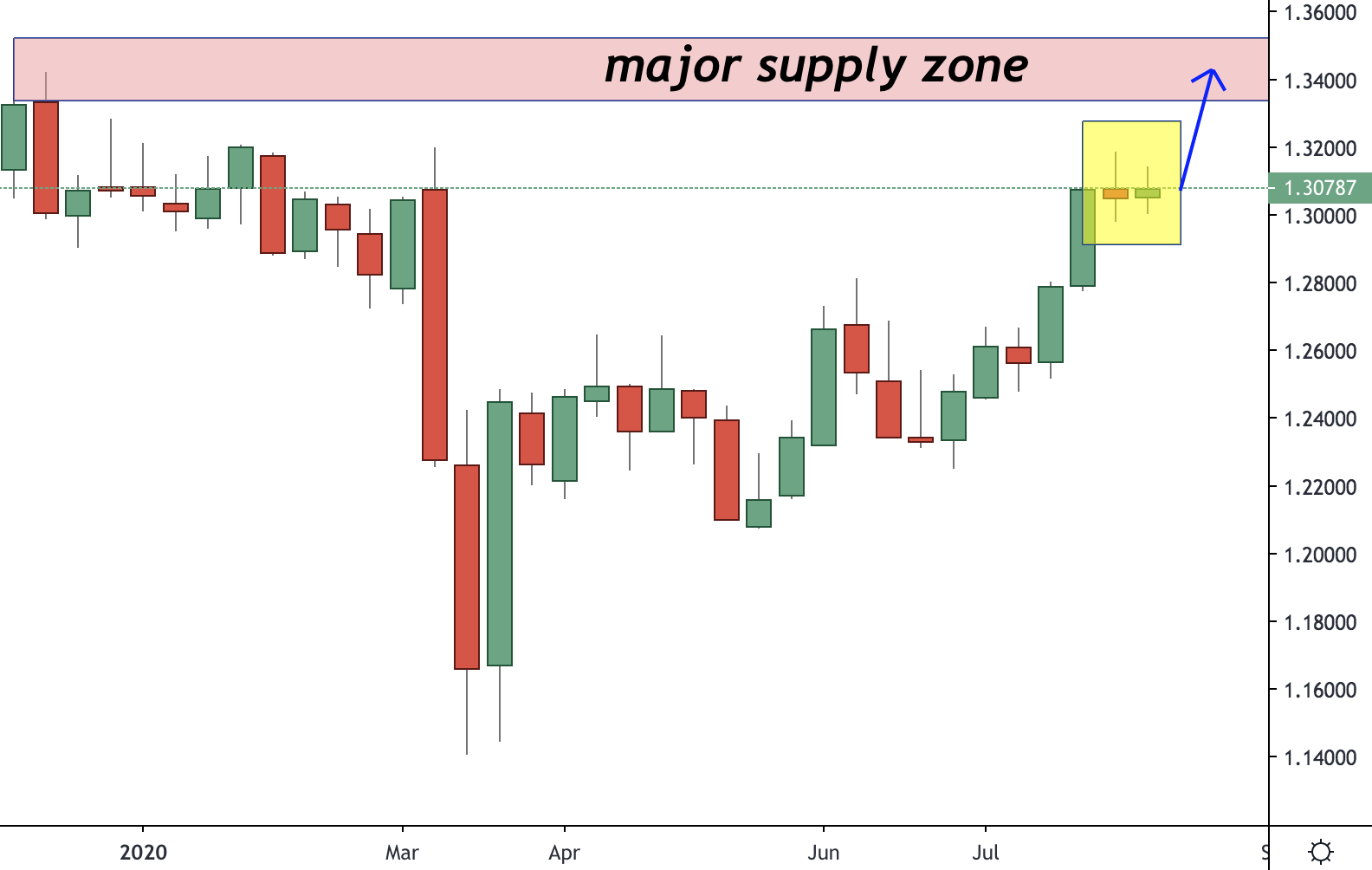 AUDUSD Weekly Setup
The following chart is the AUDUSD weekly chart.
We are seeing another inside bar here.
This is again a bullish sign and probably just a matter of time before we see another bullish leg.
Just be aware of the imminent resistance level above.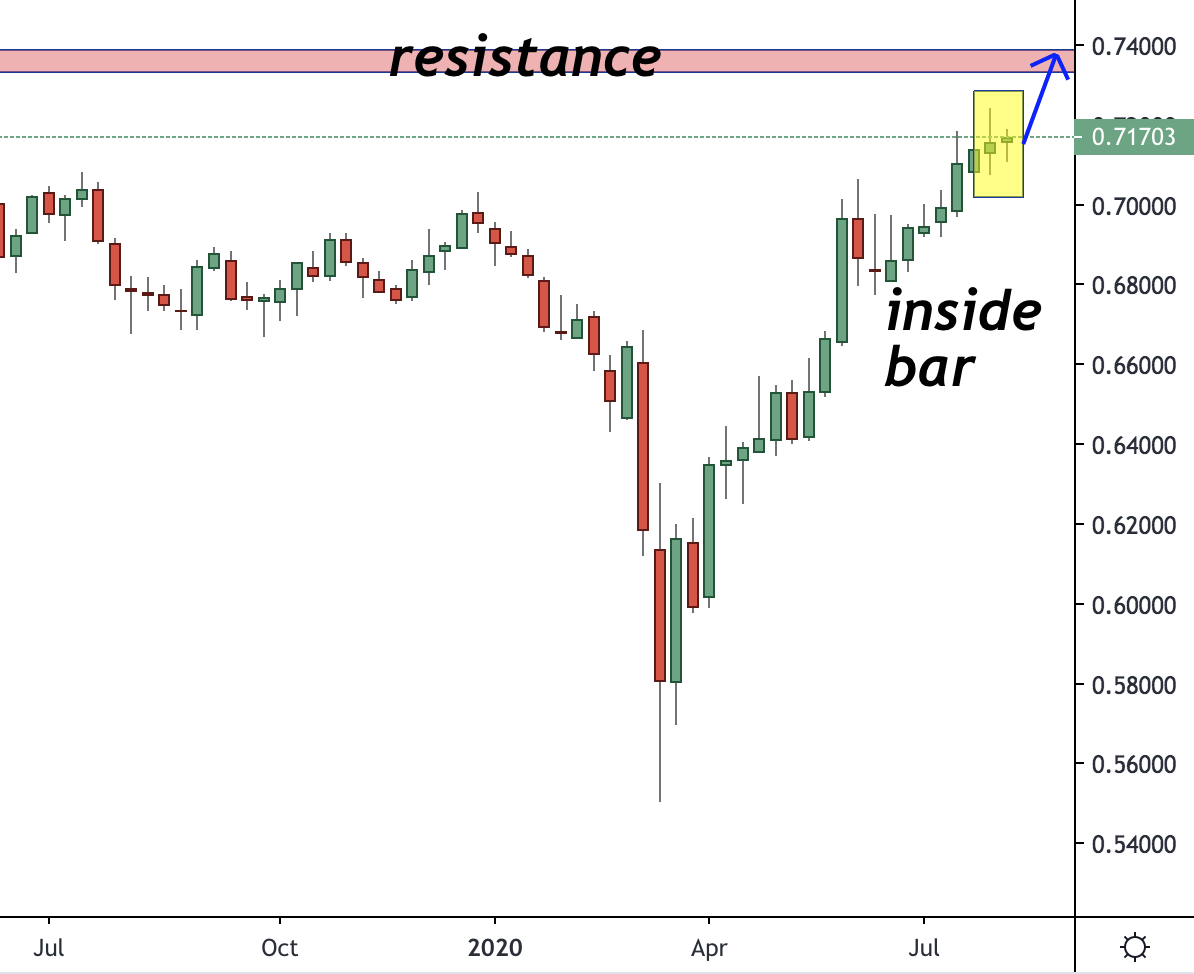 EURUSD Weekly Setup
Another chart that looks almost identical to the previous two is the EURUSD chart.
Traders can see an inside bar on the weekly chart.
This bodes for more buying pressure in the weeks to come.
Another positive factor here is the distance between the current price and the next major supply zone.
I am not expecting price to go up in a straight line, but watch out for places where you can "buy-the-dip".
That is what I will be doing most likely.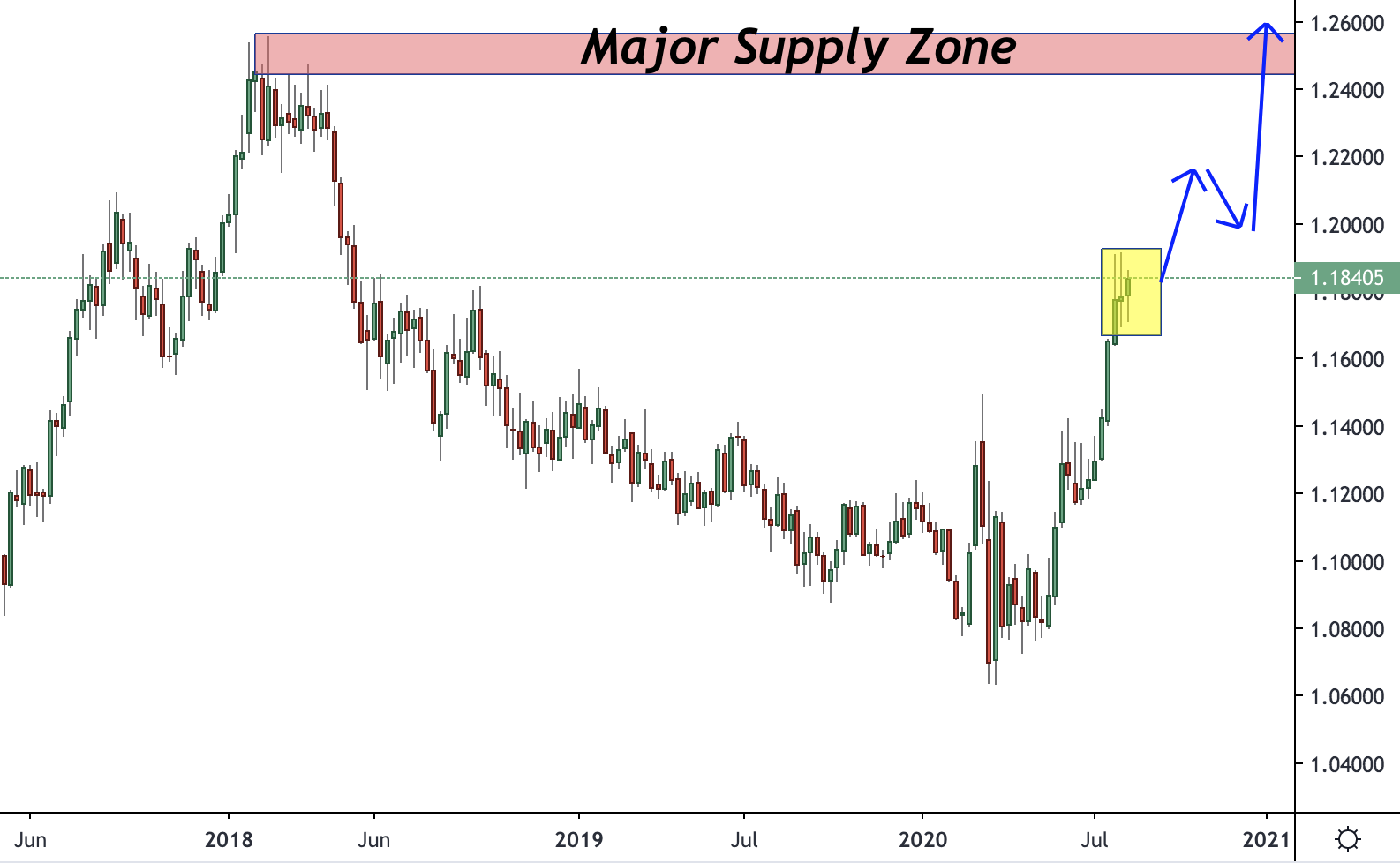 Happy Trading,
Atanas (a.k.a. Colibri Trader)
P.S.
If you want to learn how I am using Supply and Demand to trade, click here.
If you believe you can benefit more from my DAX and Dow day trading strategy, click here.
If you have any questions about anything trading related, you drop me an email or reach out to me on Skype from here.
(Visited 1,116 time, 1 visit today)