DAX Trading Analysis
Dear traders,
I wrote about EURUSD last time. There was a pinbar on the daily chart but it was very close to a resistance level.
I was looking for a retracement or a sign from the 4H chart, but such did not come.
There was another pinbar on the daily timeframe, which I did not take for similar reasons.
So far, EURUSD seems locked in-between 1.1500 and 1.1800.
DAX Trading Analysis
Today, I shared with most of you on Twitter my DAX trade.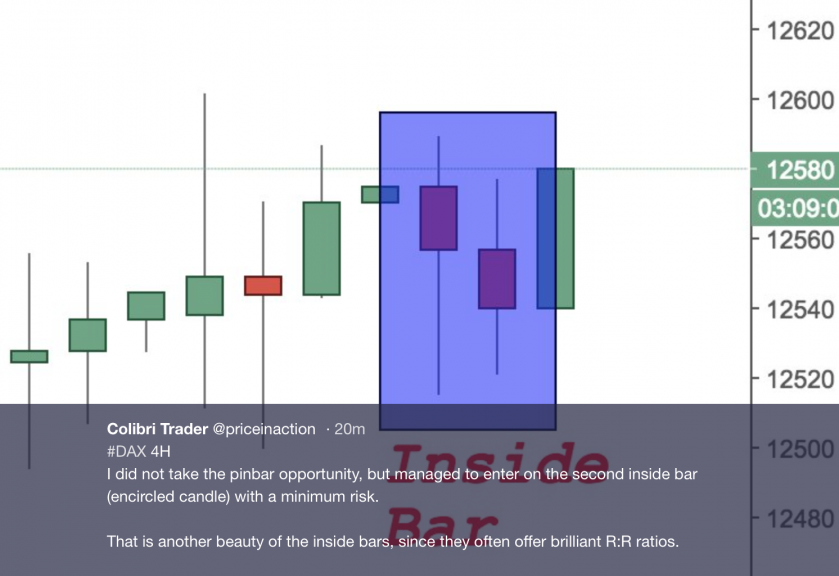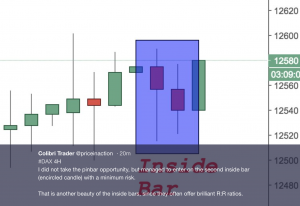 There was an inside bar on the 4H chart, which was preceded by an inside bar on the Daily chart.
This gave me the confidence to go long.
On the other side, today's daily candle is forming a 4-candle bullish engulfing pattern.
This gives me another reason to think that the next few sessions might be bullish.
I would still like to see a retracement towards the 12600 level and if price action confirms my view to go long with a second trade according to my trading strategy.
A few important points to consider:
There is a minor resistance level at 12700
The bullish move could be slightly exhausted already
If price manages to break above the 12700 level and stay there for a while, I will be looking to possibly add another small trade on a retracement.
I am looking at the 13100 as a potential target. It all depends on price action, though!
Happy Trading,
Colibri Trader
p.s.
Check out why I have decided to take this trade HERE
(Visited 551 time, 1 visit today)