Why I Was Thinking Of Taking This Trade and How My Trading Discipline Helped me Not To
Trading discipline?
So, what's the deal with this "trade"?
I was looking to trade the DAX on Friday and I almost did… but I did NOT!
First of all- I am proud of myself for not trading DAX on Friday, because of two reasons:
It was not my perfect setup
I managed to control my emotions and follow my trading discipline, which saved me from making a costly mistake
The Trading Setup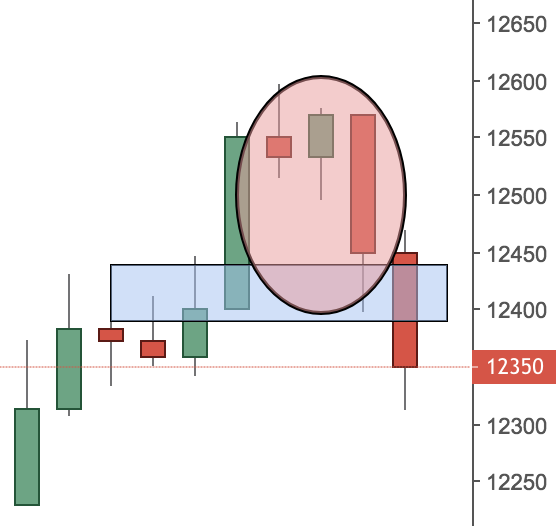 The above chart is the daily chart of DAX. As you can see, the encircled area shows a bearish engulfing pattern.
In falling markets this is a bearish signal. But is the market falling, raising or making a correction?
I was more keen to think that it is making a small correction until it finds a base and continues its uptrend. I was still following my plan and sticking to my trading discipline…
The 4H Chart- Misleading As It Could Be
I was waiting for a certain formation to take a long trade.
I was thinking that when price goes down below this support level (marked with a blue line) price will bounce back.
I was looking for either:
Pin bar OR
Bullish Engulfing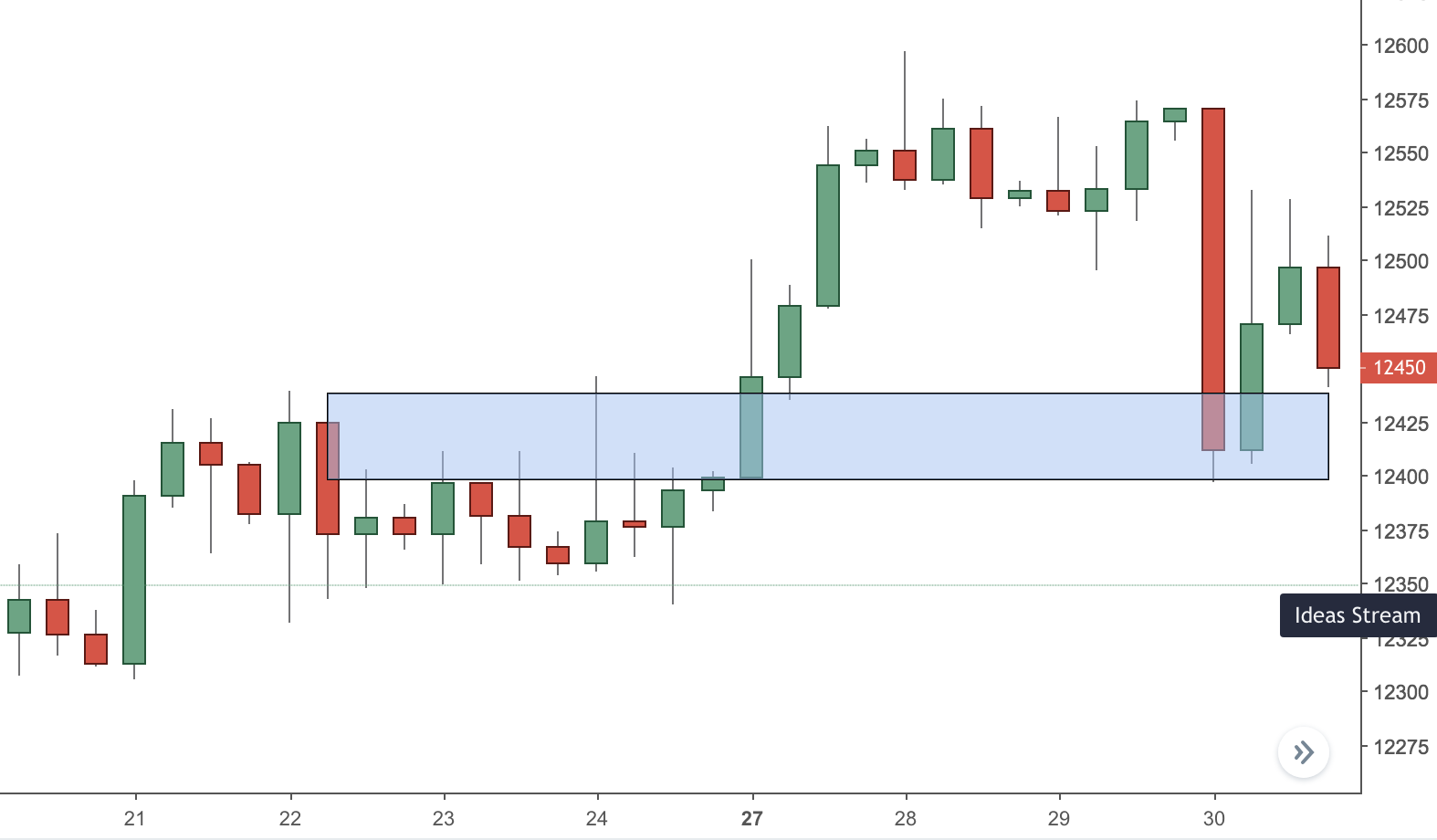 My ideal trade according to the 4H chart would have been to see price dipping below the low boundary of the blue line or below 12400.
What really happened was: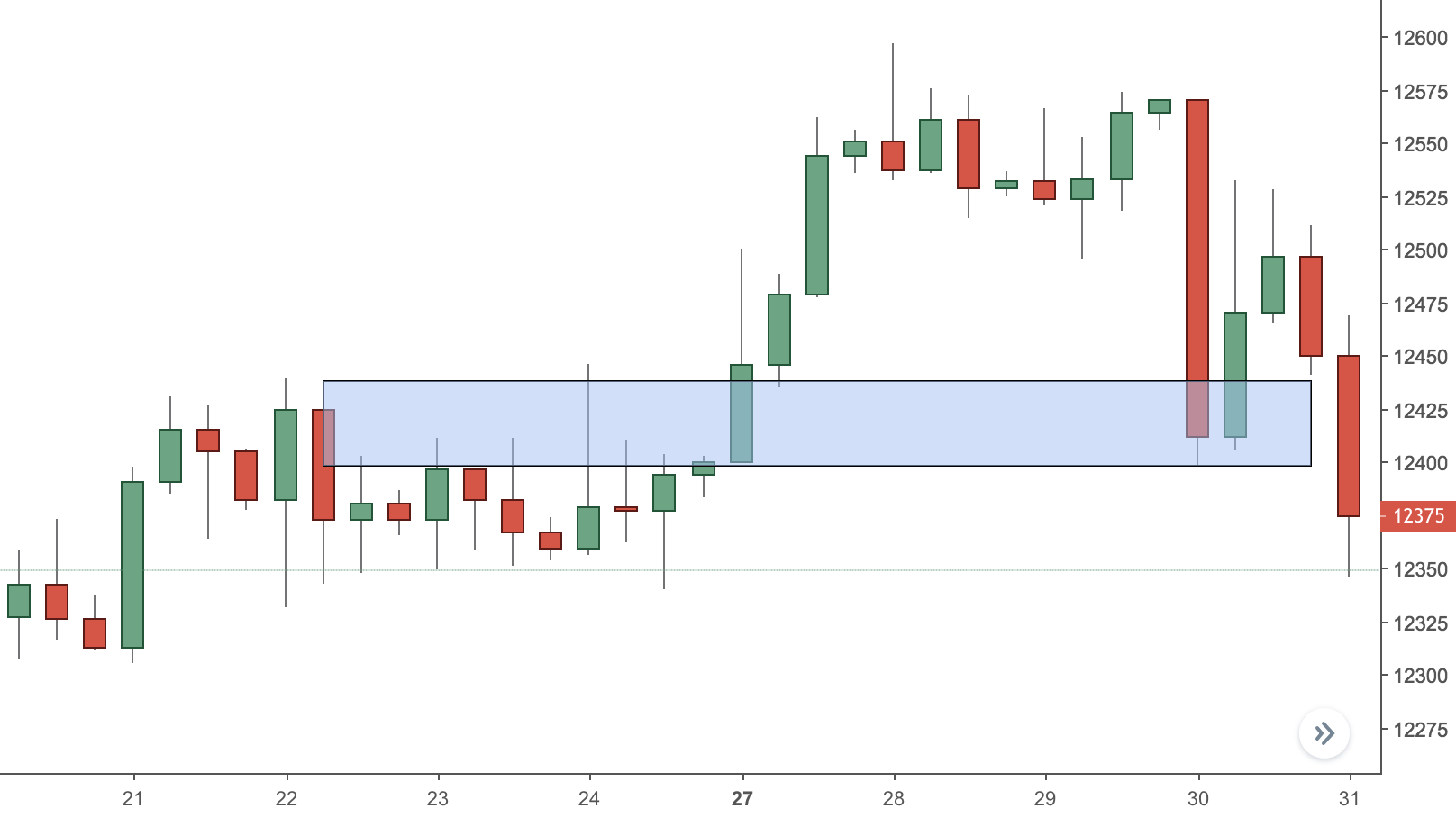 … price actually really dipped below. It was a strong bearish candle, which could bode two things:
Minor downtrend is about to finish very soon (WHICH WAS GREAT) OR
The sellers will gain traction and continue selling
I needed to be patient enough to be able to get the setup I was waiting for. In my head, the perfect setup would have been a pin bar, like the image below: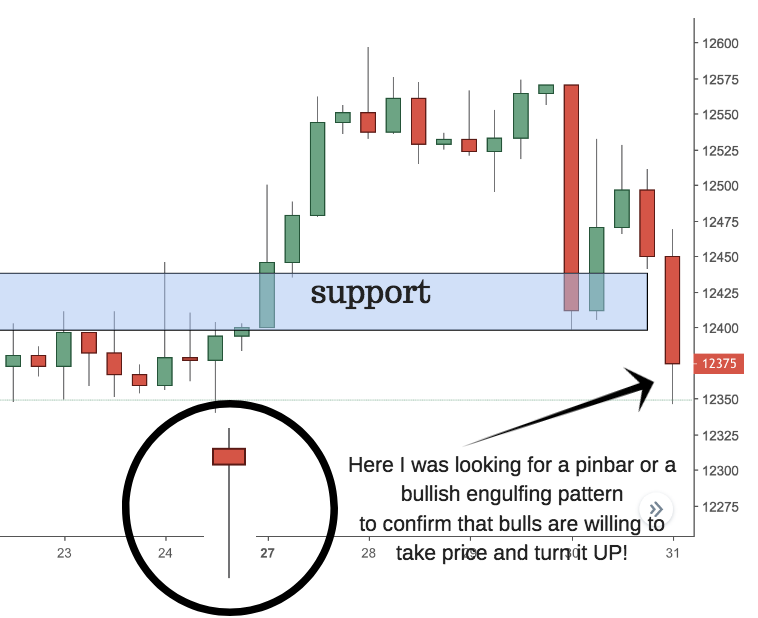 Well… it did not form and the next candle on the 4H chart was an inside bar. The place where it formed was not boding well for a bullish reversal and I did not take it for that reason.
Again… TRADING DISCIPLINE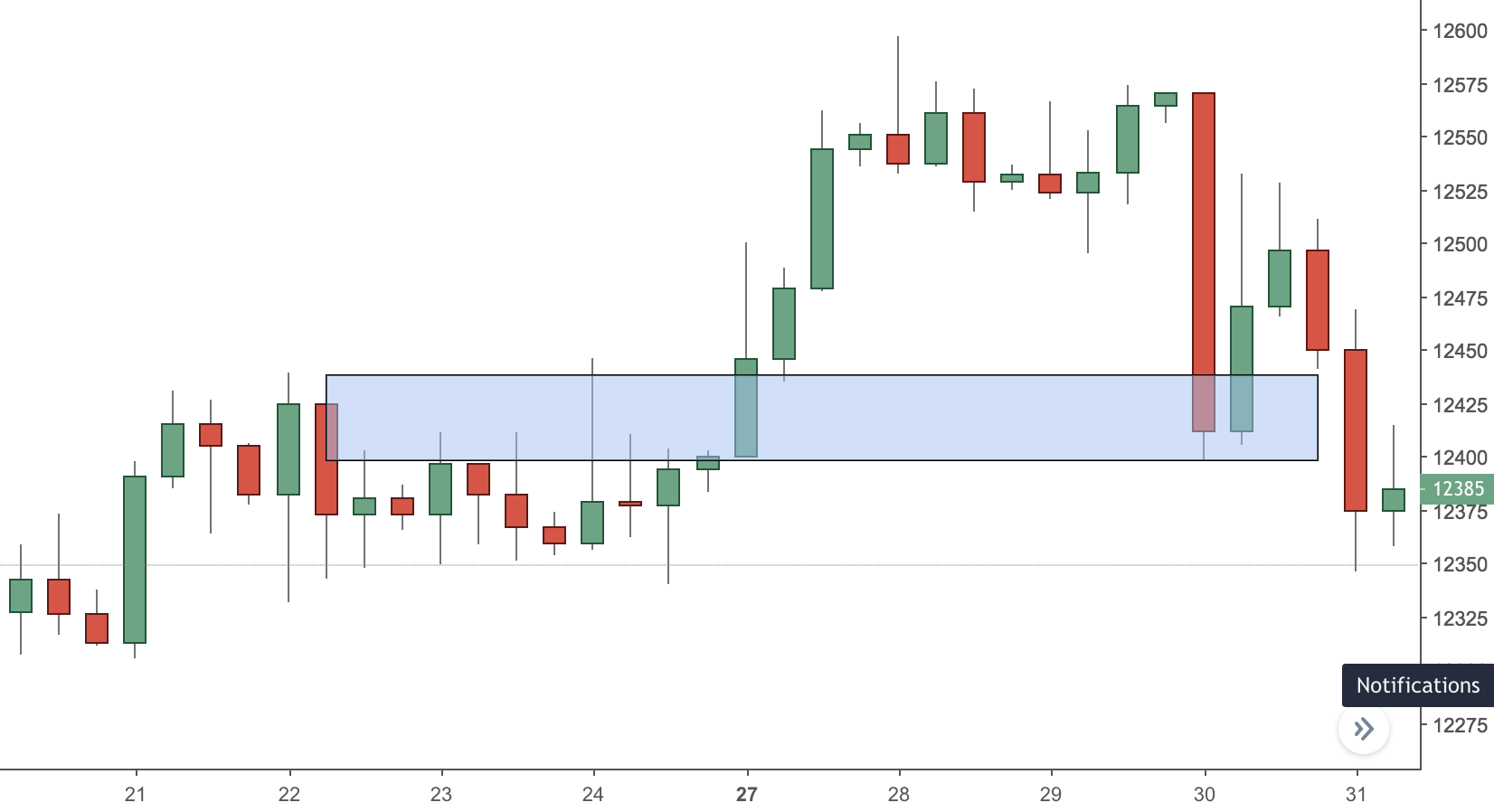 For me that trade was invalidated. I was just waiting to see if the next candle would be a bullish one, which together with this inside bar could have formed a two-candle bullish engulfing.
Alas…
It was quite the contrary- the pattern that formed was a bearish engulfing. This concluded my agony and I decided to call it a day!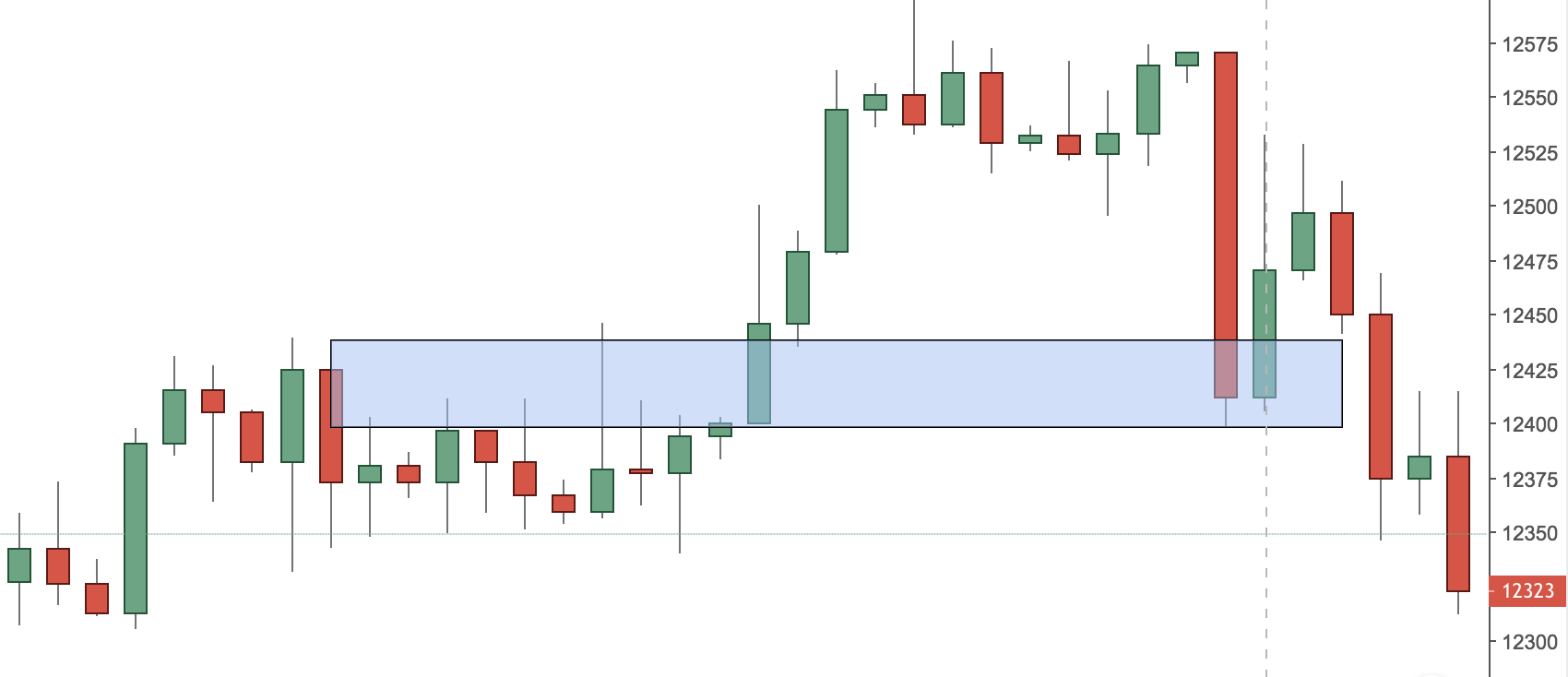 Would You Have Seen This Trade From Another Point Of View
Yes! If I did not follow my pre-written "trading discipline" rules…
It was certainly a possibility.
If you come back to the very first chart you can argue that after a bearish engulfing pattern in this uptrend, it won't be invalidated and will attract more sellers.
That is what happened and the series of 4H charts are showing that sellers actually won that battle.
But if I have taken this trade, I would have gone against my trading rule- to NOT TRADE AGAINST THE TREND.
I could have broken my trading disciplines rules, but I DIDN'T!
Looking at this bearish engulfing pattern and trading it would have been a mistake and I managed to not fall into that trap.
It would have worked in this particular case, but it will not work out in the next 5 times or so.
That is what a real trading discipline should look like!
That is how you should look at the market- AS A SERIOUS BUSINESS!
Conclusion
Two major conclusions might be made from this potential trading setup:
Never rush into a trade before the candle has formed and closed
Overtrading is bad and it would have led to a loss and one loss leads to another
Even though I did not trade this Friday, I was feeling great! I was feeling self-fulfilled and was proud to have followed my trading plan. As I like to say, sometimes the best thing to do is JUST DON'T TAKE THIS TRADE!
P.S.
I am really proud that some of my students are able to show such profitable P/L figures as the ones below and they are willing to share them with the rest.
This is another proof that trading discipline works when combined with the right trading strategy!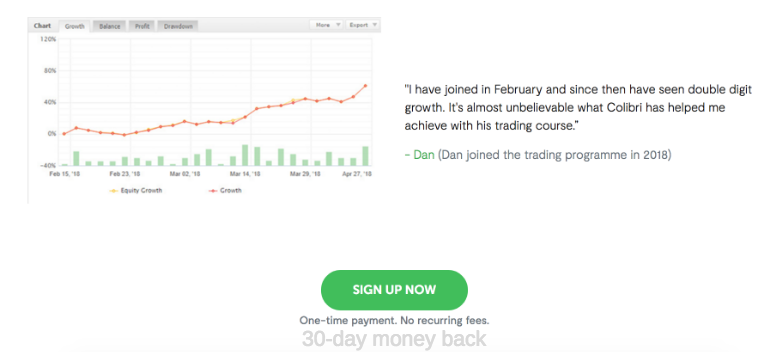 P.P.S
Check out another real story of another one of my latest trading students from my trading programme.
(Visited 6,343 time, 1 visit today)