Long Term Investment Ideas in Stocks
Today I will cover a few thoughts i have been having in the past couple of weeks. After a strong bearish cycle, I believe the market mood is changing for the precious markets' sector we are going to see a major shift of sands.
SUMMARY- Long Term Investment Ideas in Stocks from the Mining Sector:
The beginning of 2016 has already been strong for this sectors and I believe that this is just the beginning of a much larger trend. A few more fundamental reasons for the Gold/Silver market to comeback are: 1) The falling dollar 2) More volatility in the stock market 3) Gold and Silver had a great start of the year. My top long-term picks for 2016 are going to be Gold/Silver mining stocks
DAILY REPORTS- In my daily reports, I have been only covering FX and CFD trading, but now I can see a clear trend forming and feel like it is worth sharing it with you. It is just my humble opinion, but I believe that Gold and Silver are having a turnaround and I am going to go long in some mining stocks, which you will find in the following lines. As the US indices are crawling lower and more pressure coming from the emerging markets, the energy sector will be becoming more and more important. Traders and funds will be looking for more and more reasons to go long, including the popular inflation arguments and also the fact the the Gold market has had an incredible start of the year (already 8% up YTD). Gold/Silver won't be alone in this comeback. Where I believe we can find even more value is the mining sector, which had a really bad hit in the past years. Now, it looks ripe for a bullish recovery or a new bullish cycle. A few of the mining stocks I have been watching recently are:
Almaden Minerals Ltd. (AAU)
Yamana Gold, Inc. (AUY)
Goldcorp Inc. (GG)
IAMGOLD Corp. (IAG)
Kinross Gold Corporation (KGC)
Sandstorm Gold Ltd. (SAND)
First Majestic Silver Corp. (AG)
Coeur Mining, Inc. (CDE)
Endeavour Silver Corp. (EXK)
And two more investment ideas that are not for the faint-hearted:
Vista Gold Corp. (VGZ)
Mines Management, Inc. (MGN)
In the charts below I will show some common characteristics, which could be found in almost all of the other stocks I have mentioned above. Have a look at the failed new lows (marked by the red circle) and the increasing volume (marked by the blue arrow). Let's start with the first screenshot of Yamana Gold Inc: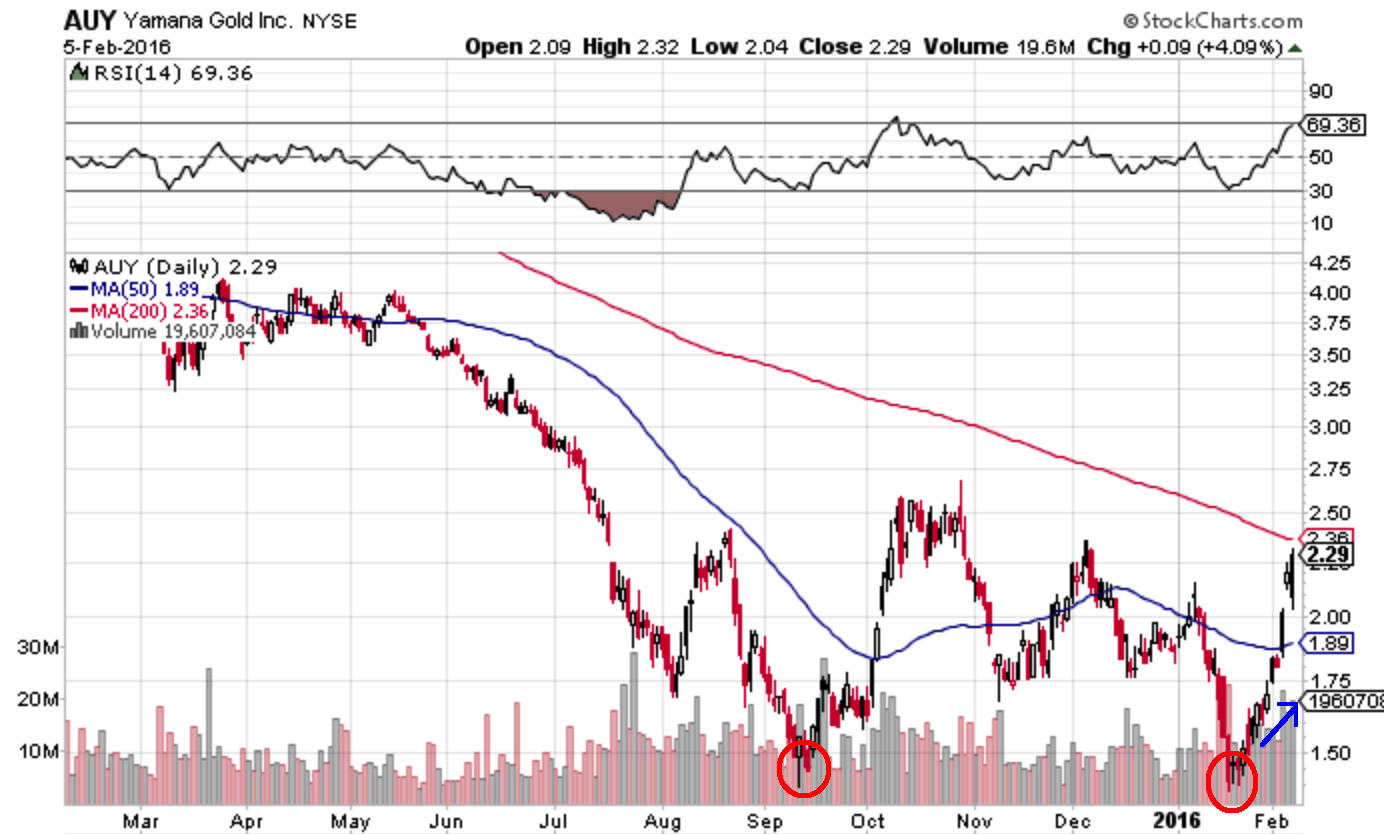 In the screenshot above, you can see a failed new low in addition to increasing volume- a confirmation of new sellers joining the rally.
The second screenshot is taken from First Majestic Corp and is almost identical to the first one: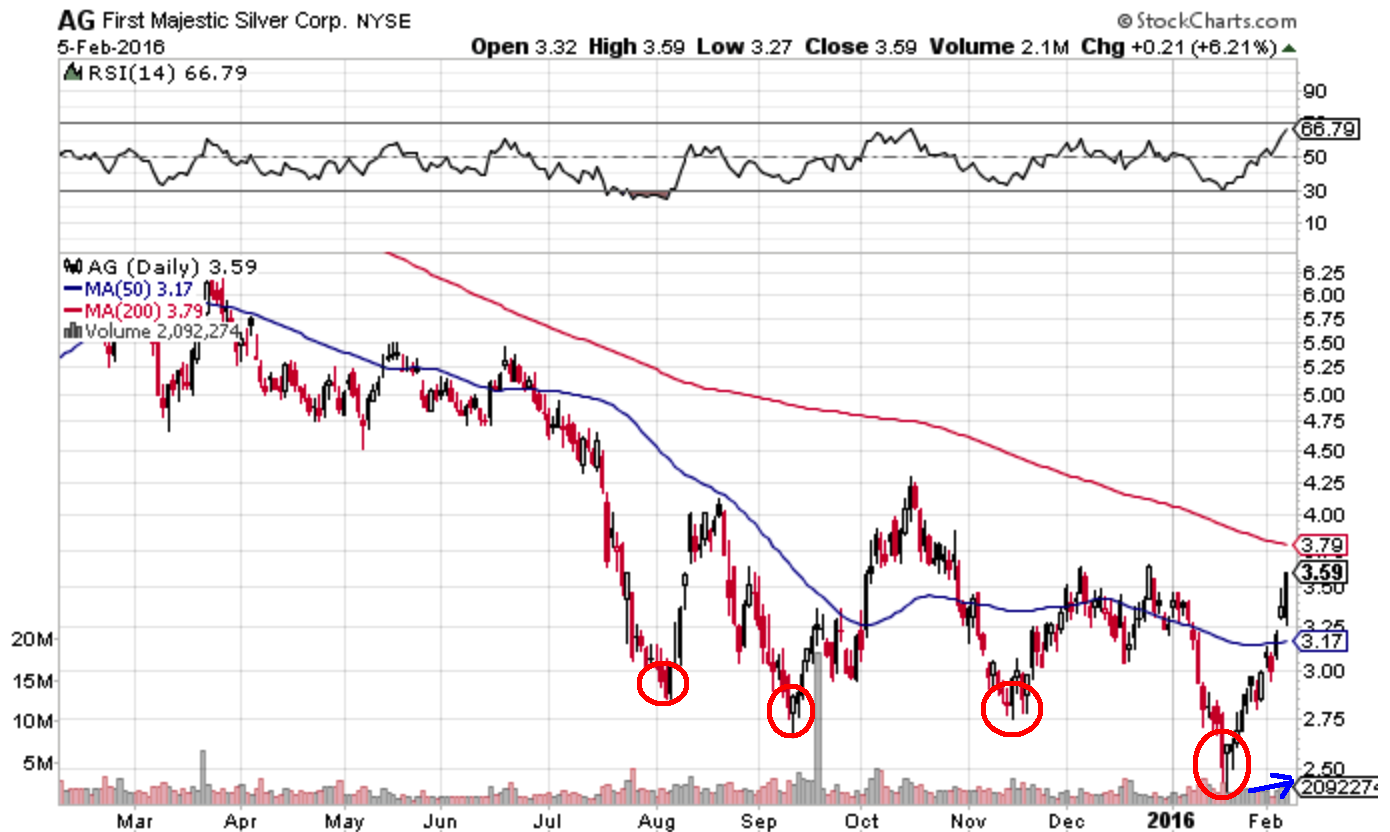 Source: Stockcharts.com
We can see three consecutive lows and the last one is a failed new low occurring at the same time as the increase in volume we can see. This is another stock in the same sector showing the same characteristics.
In the third example from the list above- Sandstorm Gold Ltd., we will see very similar technical factors: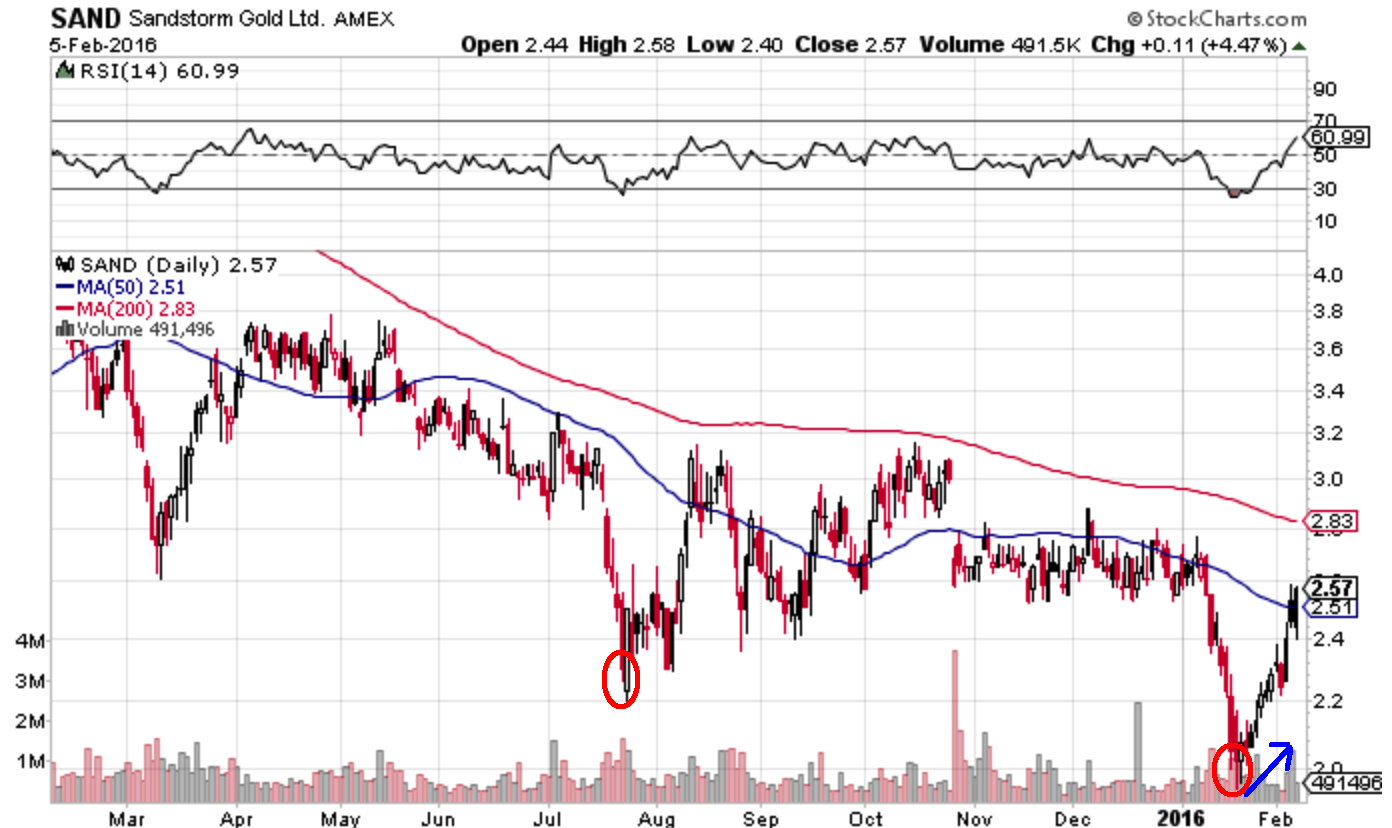 Source: Stockcharts.com
For the inexperienced, these charts look exactly the same and this is actually a great technical confirmation for the experienced trader. We have a new failed new low in all of these examples in addition to increasing volumes. Although not much of a daily price action, I believe that this article will help some of you with my long-term investment ideas in stocks, which I have been investigating for in the past two weeks. I am happy to share with you such ideas, because for me they don't come that often, but once they arrive, they are worth taking (or at least in my opinion). It is absolutely up to you to make your own research and check whether they correspond to your investment criteria.
Long Term Investment Ideas in Stocks-Conclusion:
In the next week I will be closely following the action of the above list of stocks and probably go long in 1-3 of them. For me, that is a great moment to start building a long position. My psychological stop would be just below the failed low (or the last red circle). My target would be measured in time. I will be looking how the stocks are developing in the next 3-9 months and either build-up a bigger position or take profits partially. I need to see a confirmation from price and a clear indication from my P/L that I am right. I believe that is the best indication of whether or not you are right- not your ego!
Happy Trading,
Colibri Trader
(Visited 526 time, 1 visit today)