Stock market crash?
Last few weeks have been quite profitable for me.
There were a few good trades.
Here are three of the trading opportunities I did talk about:
Dax Topping Out- about to crash?
It has been a wild ride for DAX traders in the past few weeks.
Volatility has been high.
Seems like price has topped out on a major supply zone level.
Question is how low will it go from here and will we experience a major crash…
Here is the weekly chart: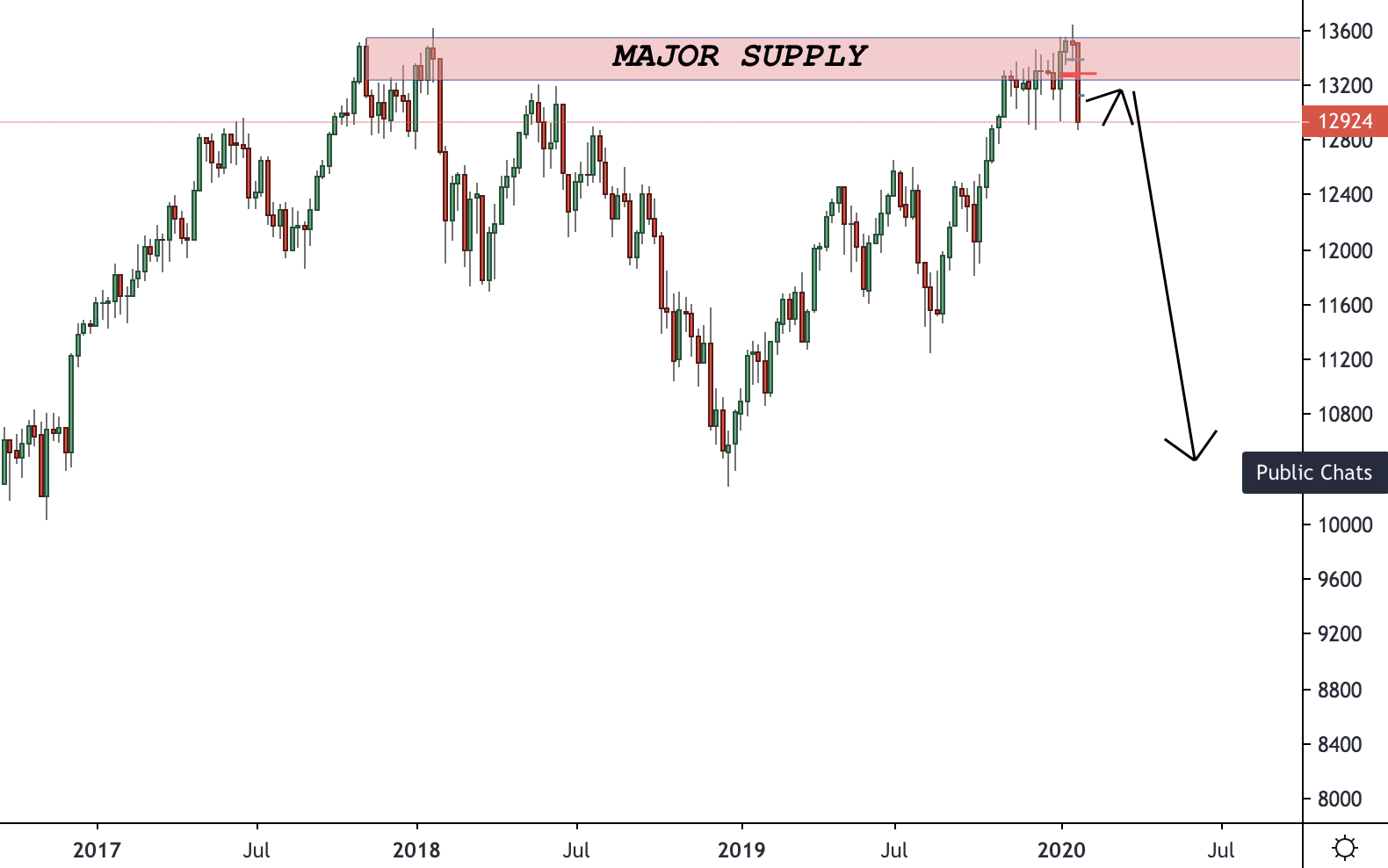 I can see Dax going down back to the 10000 mark. But will there be enough fundamentals to propel such a move?
Will a deadly virus be the reason for a stock market meltdown?
Will Europe really experience a stock market crash?
Dow at an all-time high…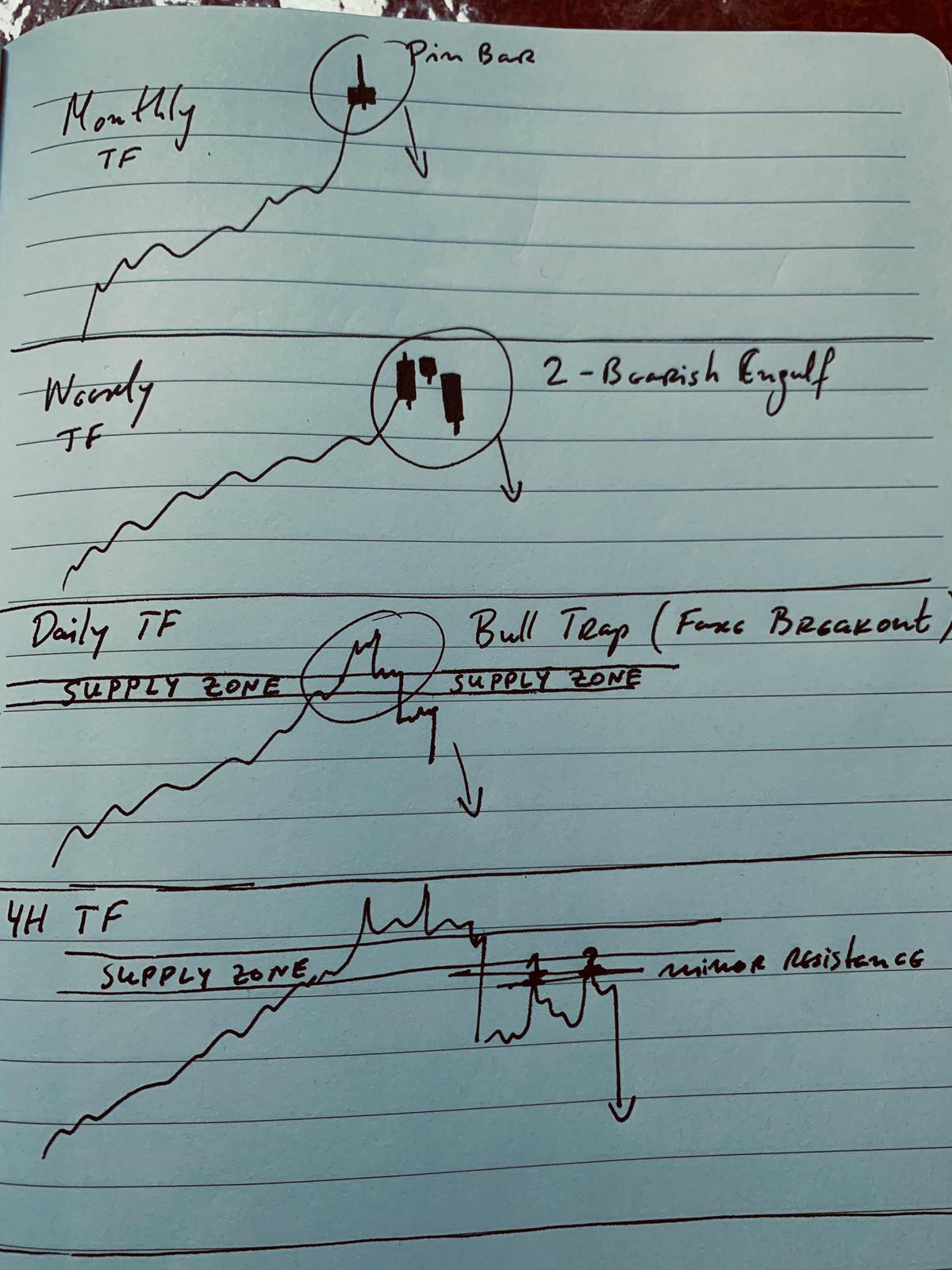 Here is a little drawing I have done myself.
It is broken down into 4 different timeframes from Monthly to 4H all showing topping out setups.
This is pretty much how Dow looks right now. Here is the real screenshot from the monthly chart: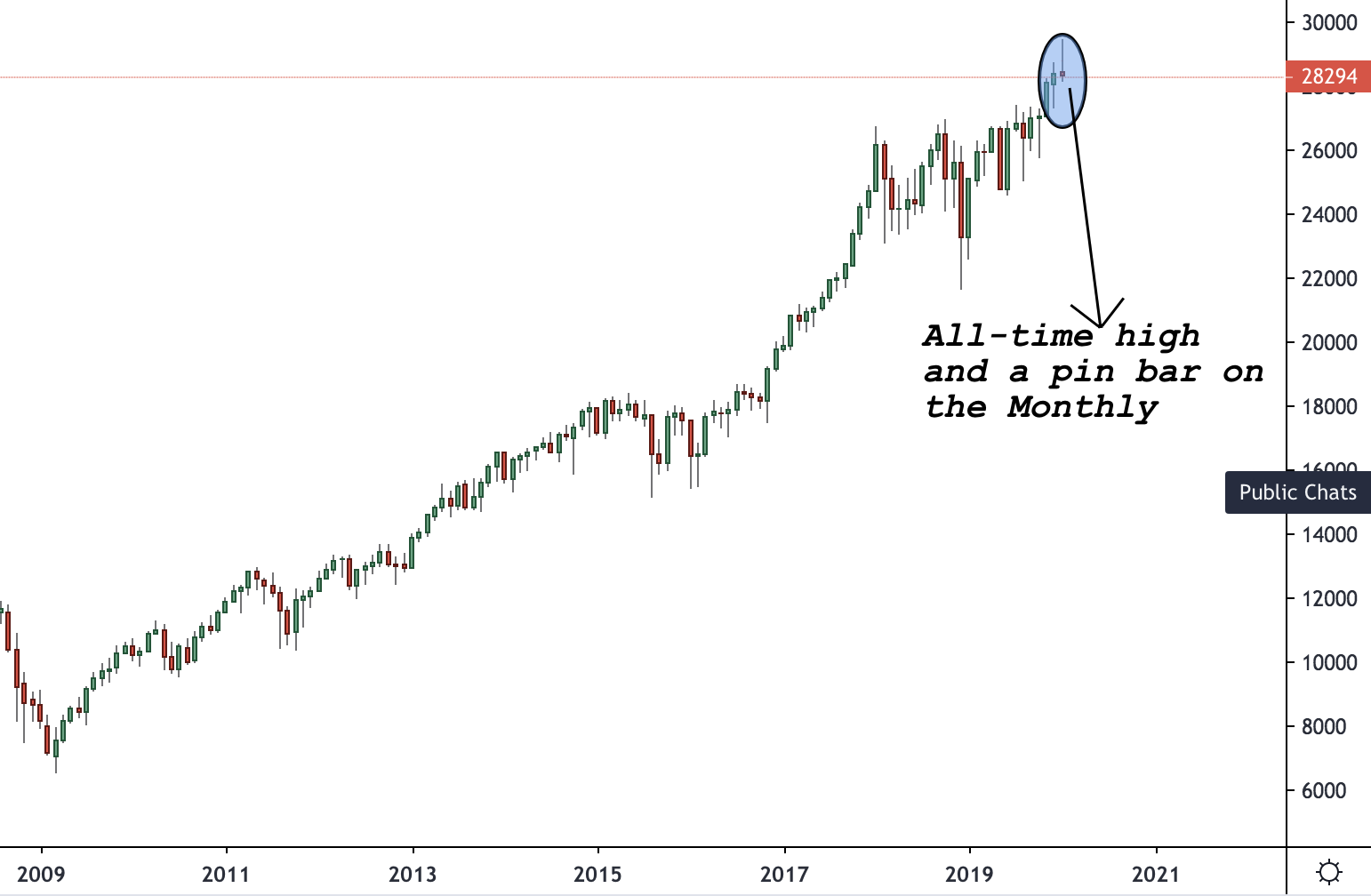 Dow is at an all-time high.
US stock market crash?
Possibly short it???
I would not have been thinking of possibly shorting Dow if there were not so many negative signs of reversal.
Together with Dax, they are both at an all-time high and showing signs of weakness and a possible meltdown.
SPX and NASDAQ and what about them?
Let's have a look at S&P500 first: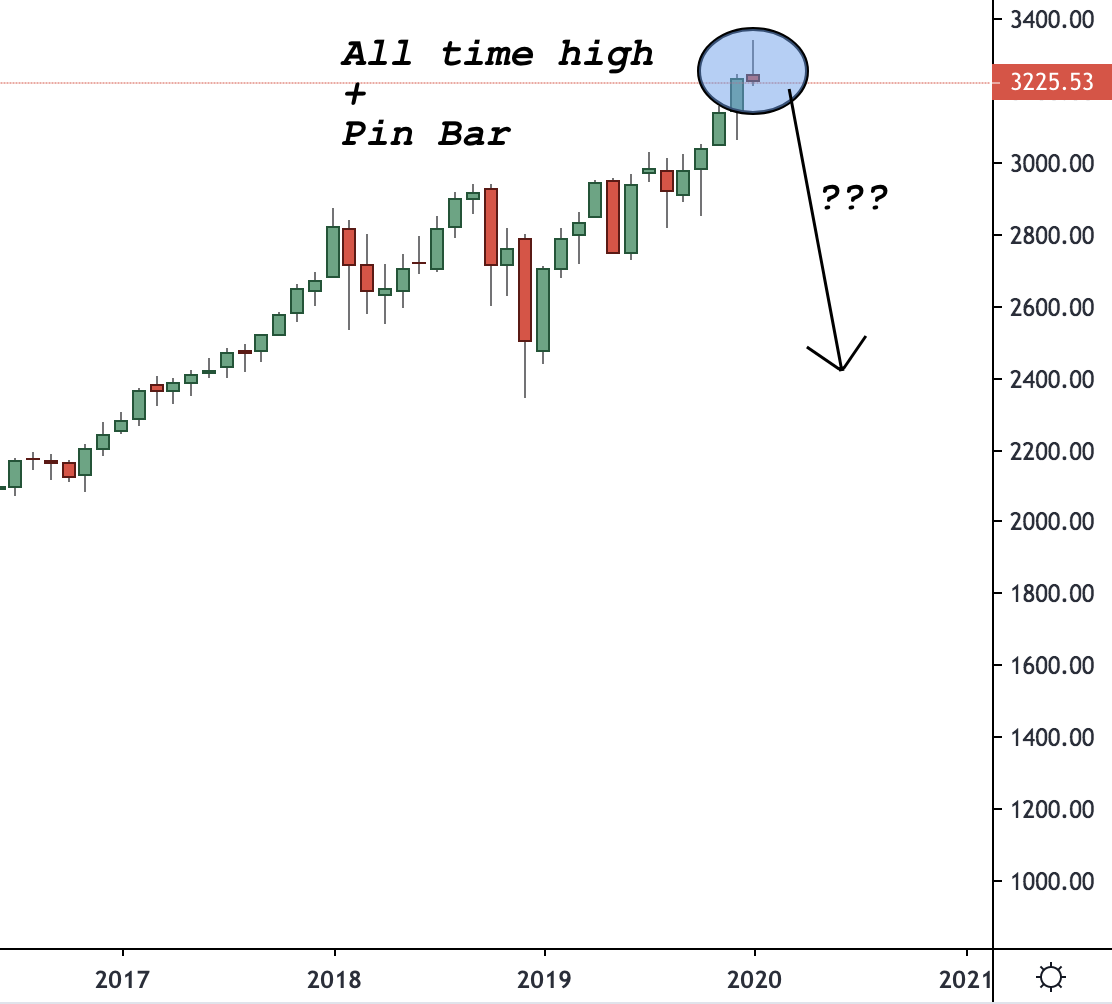 Looks like S&P is also at an all-time high. There is a pin bar that formed on the monthly chart, too.
This gives us another confirmation that the market is probably at an all-time high and ready for a reversal.
But will that extend and turn into a stock market crash?
I guess nobody will know before it really happens…
What about Nasdaq?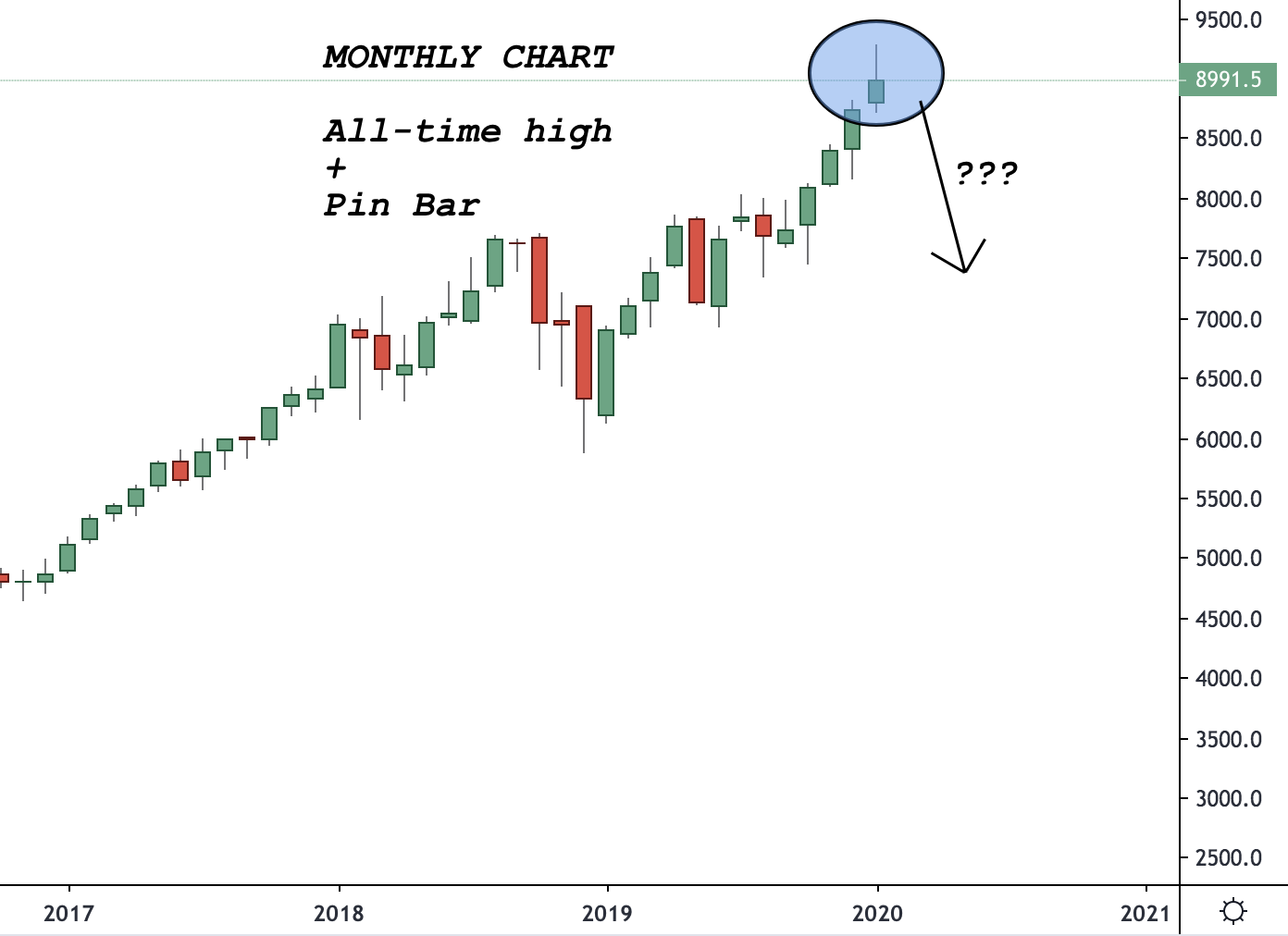 The picture looks almost identical to the previous few charts.
These are scary moments in human history.
These price action formation make me ask questions what could potentially initiate a market reversal.
Could the sparkle come from the corona virus?
Could too much of a QE and money printing be the reason?
Are the markets immune from "diseases" and the sporadic sell-offs.
Let's have one more final look at the European indices and decide if the hypothesis for a stock market crash is feasible.
EUROSTOCKS (EU50)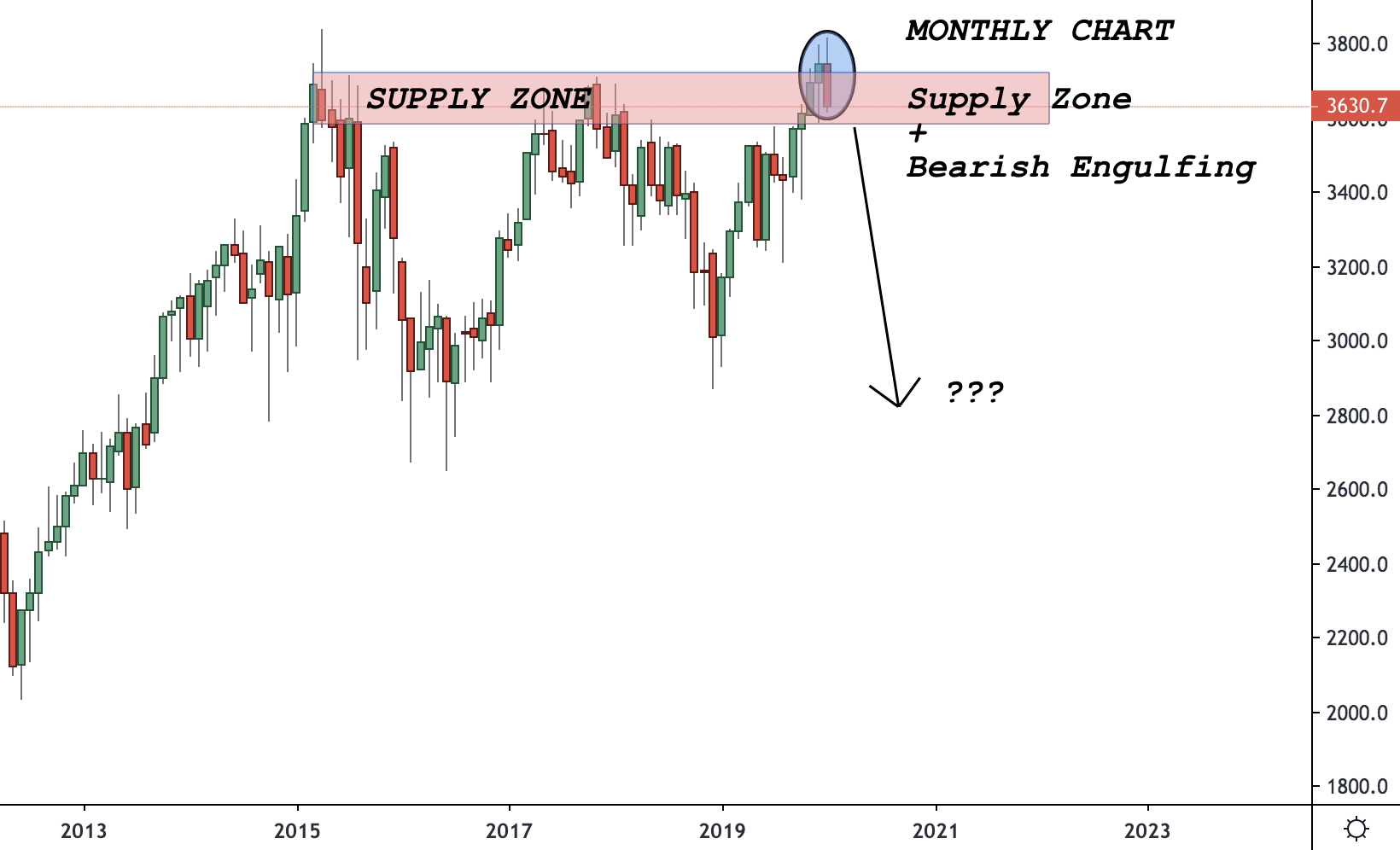 Above is the monthly chart of Eurostocks.
There is a major supply zone and bearish engulfing pattern.
This is a very strong bearish combination and once again confirming that a selloff might be imminent.
Let's have a look at another European index.
Ibex 35
Looks like the trouble here might have started a bit earlier.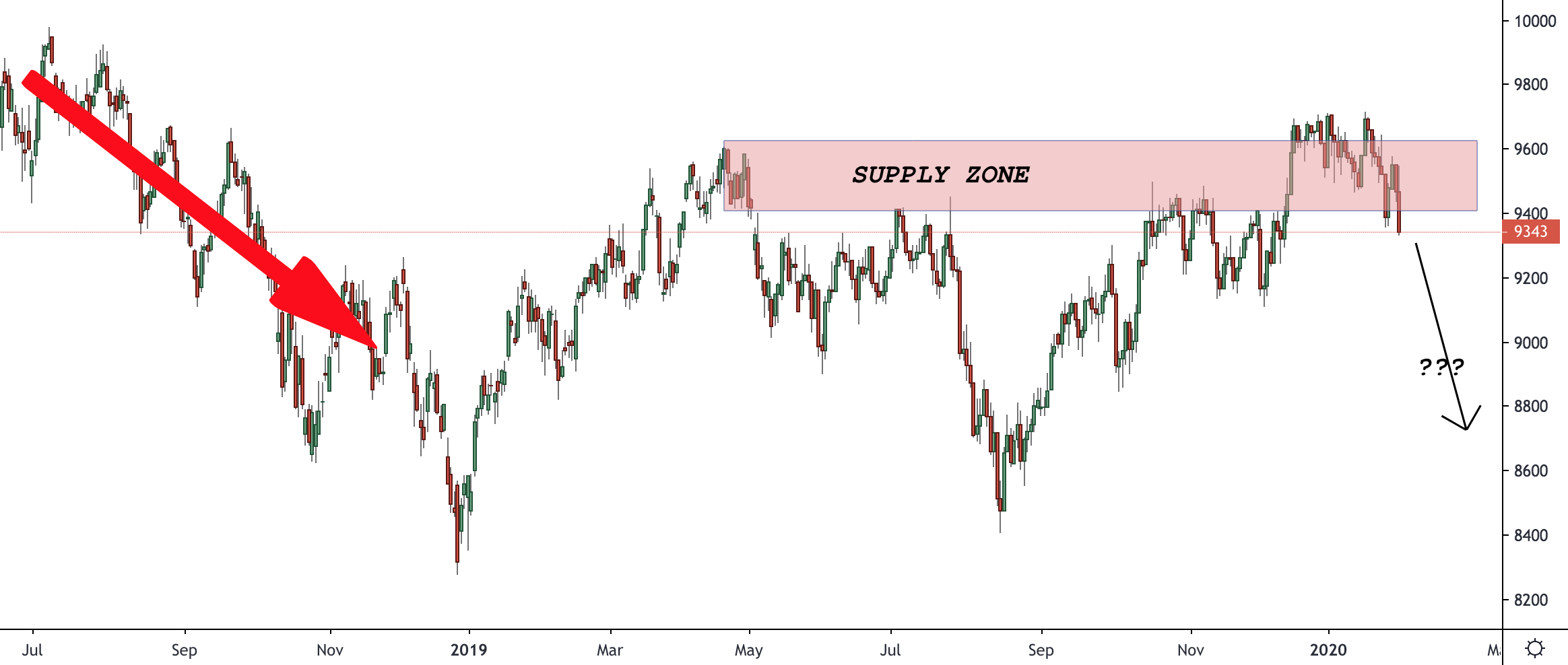 From the screenshot above (Daily Ibex 35 chart), I can see that the downtrend has started earlier last year already.
The coincidence here is that a supply zone has just triggered a new sell-off.
This overlaps with all of the other indices charts that I have analysed so far.
Let's have a quick look at the French economy:)
CAC40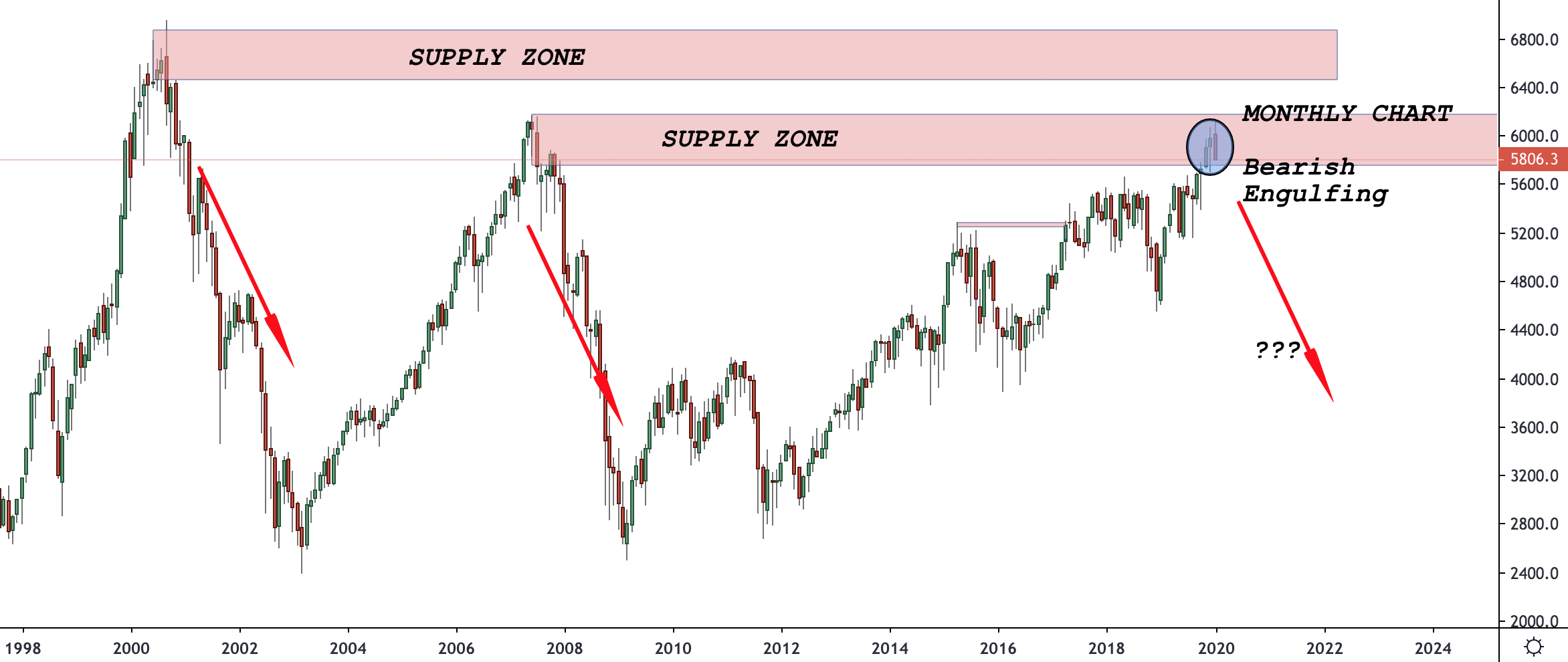 From the chart above a similar statement could be made.
If you go back in time, you can see that the previous recession in 2008 started just below a supply zone.
This is not my favourite setup, but if past history is any indicator, then we are currently positioned just under another supply zone.
There is a bearish engulfing pattern on the monthly chart, as well.
Can the downtrend continue? Could we experience a stock market crash?
Possibly YES!
So, where else can we look for confirmation/rejection of our hypothesis?
Silver, Gold…
If someone ever asked me to draw my perfect setup for a bullish reversal I will draw the following chart: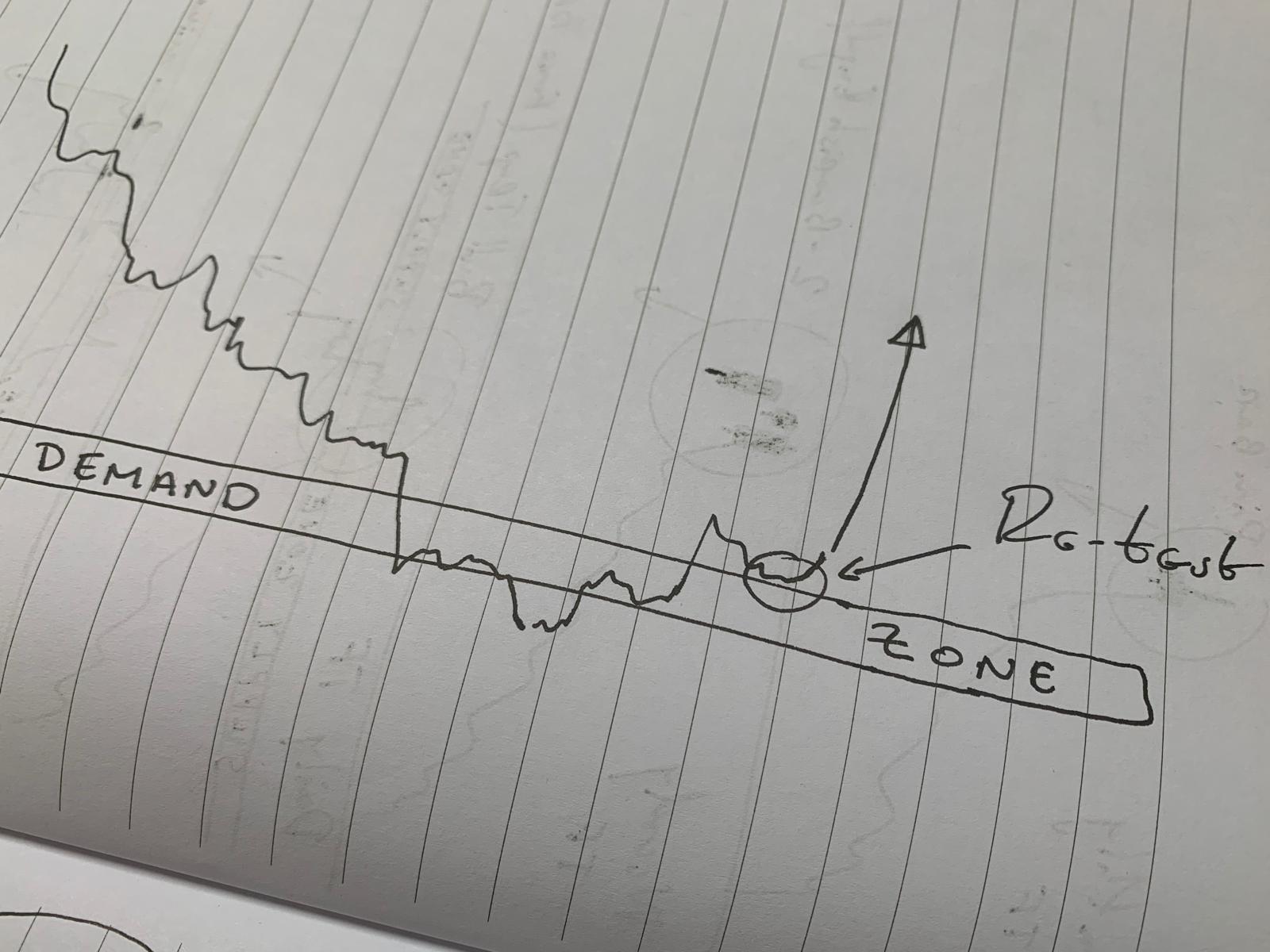 Please ignore my drawing skills 🙂
In a nutshell, for a reversal, I would preferably want to see a demand zone and a false breakout.
Then, I would like to have a confirmation of the demand zone and ideally a candlestick confirmation.
After this reverse engineering, let's have a look at the chart of silver.
Silver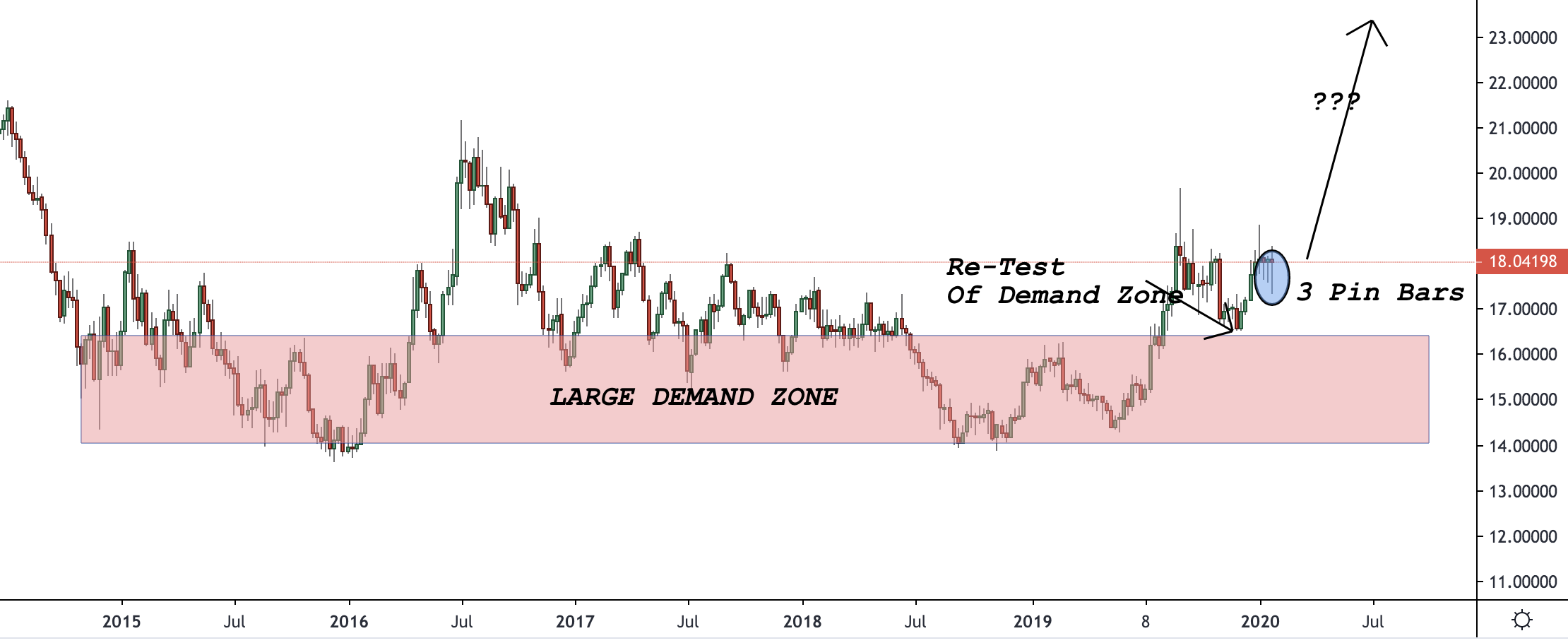 Almost identical to my skilful drawing from above.
In my eyes the weekly chart of silver is ready to test new heights.
There is a large demand zone.
Three pin bars are a clear indication of weak bears.
What could be the next move on this chart?
Simple.
More likely it will be up than down.
Gold
Let's have a quick look at the monthly gold chart.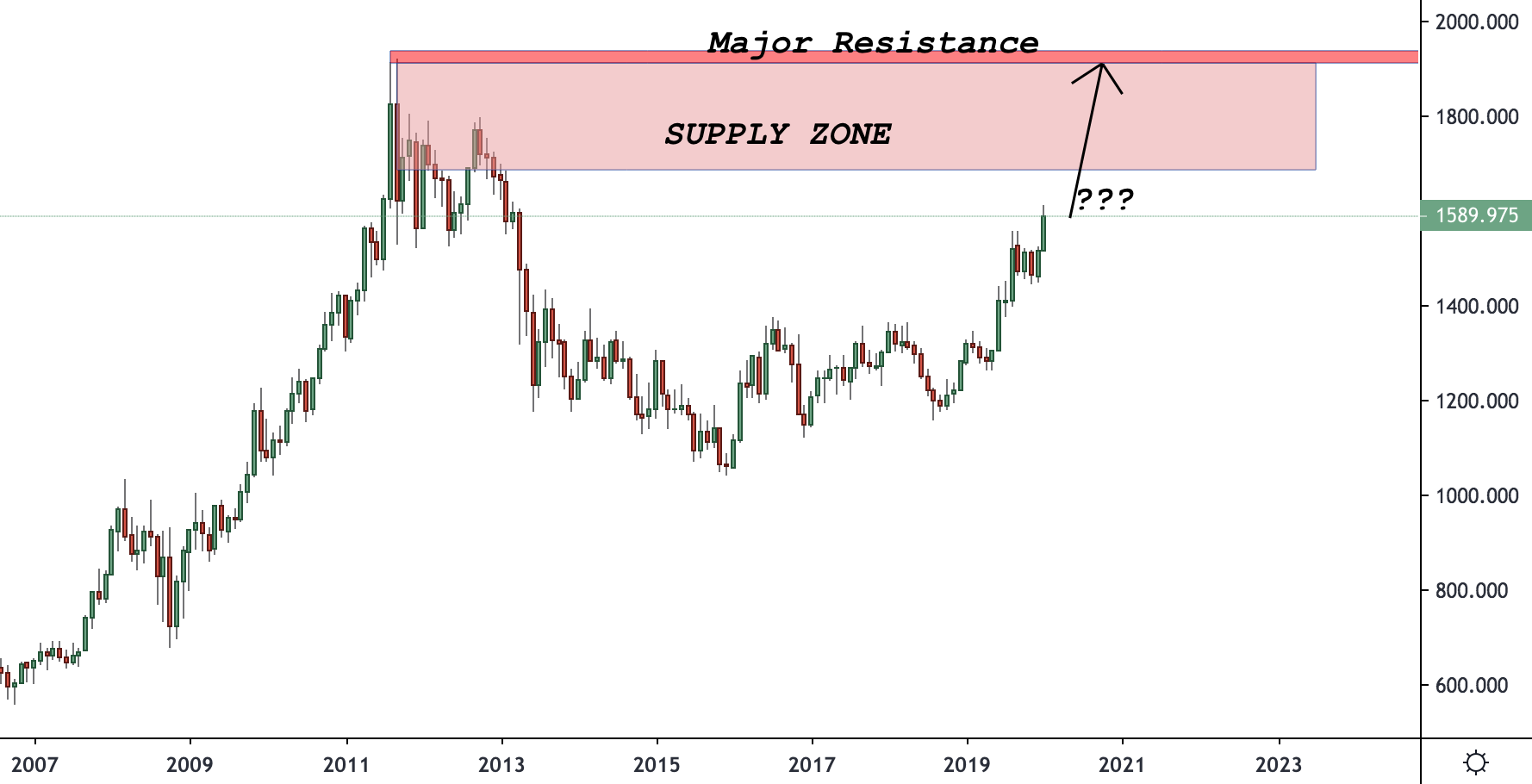 Seems like we are in an uptrend here.
There is a supply zone above is, but there is more space until price reaches it.
And who said that the price will reverse when it reaches it?
Maybe we will see a new high.
Why did I mention Gold and Silver at all?
As a rule of a thumb, when stock prices tumble, gold and silver and making new heights.
Although an oversimplification, this statement has survived the test of time and proven time and time again its validity.
We can only guess where prices will go next.

I would like to finish this analysis with the words of Nassim Taleb:
"You can't predict in general. But you can predict that those who rely on predictions are taking more risks, will have some trouble, perhaps even go bust. Someone who predicts will be fragile to prediction errors. […]
Fat Tony did not believe in predictions. But he made big bucks predicting that some people- the predictors- would go bust."
(Visited 2,436 time, 1 visit today)