Germany 30 (DAX) Trading Analysis and Thoughts
Dear traders,
I usually don't have the habit of doing trading analysis during the day, but for this one I could not stop myself.
I have just shared with my Twitter followers HERE, that DAX might be forming a bullish reversal pattern.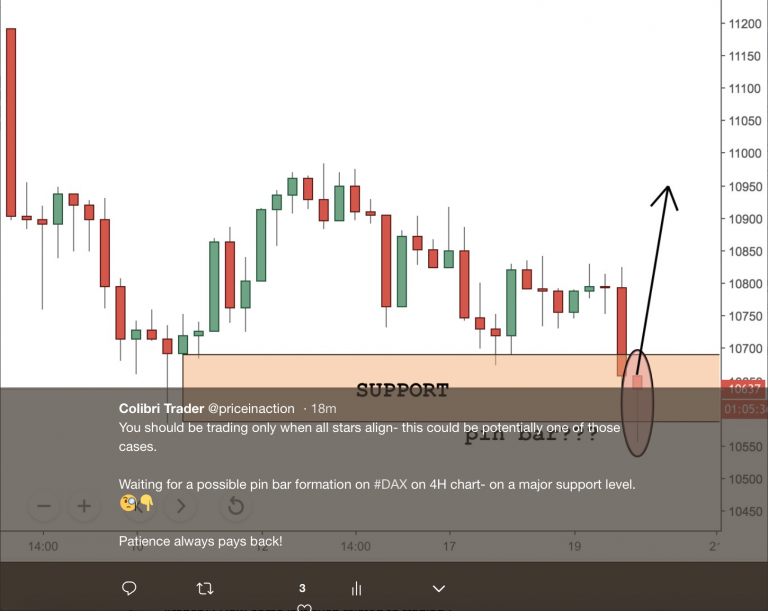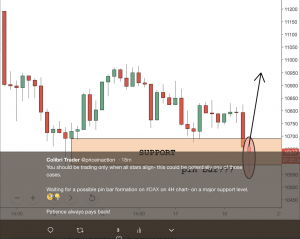 This above is the 4H chart of DAX. There is a major support level just below it, as you can see indicated from the chart.
This could be the beginning of a new bullish move. I am also looking at the daily chart and it looks like there could be a possible pin bar in-the-forming.
Germany 30 (DAX) Trading Analysis
Additionally, the level of 10,600 offers great support and is a great indication that sellers will be less willing to sell at this level.
At the same time, buyers will be ready to buy (if they have not already) at a support level like this one.
Combined with the 4H pin bar that is forming, this could be a fantastic opportunity to go long.
I am just patiently waiting to deicide if I am going to take this trade or not.
I have been waiting for a setup like this one for quite some time. DAX usually has sharp moves up and down and if you miss one, it is always better to wait for another one forming that to try to chase a lost opportunity.
That is why, I am just patiently waiting and hopefully can get one more great trade before the end of 2018!
Germany 30 (DAX) Trading Analysis Thoughts
Don't forget- trading could be an incredible journey, as long as your expectations stay realistic!
Don't be fooled into quick trades or easy ways to make money- always second-guess an offer or think twice before taking a trade.
Because there are no shortcuts in trading.
Missing a trade or two might improve your trading discipline and make you a better trader in the long-term.
Happy Trading,
Colibri Trader
p.s.
Check out my recent post on Backgammon Strategies and Trading and see if you can spot your own similarities between trading and backgammon.
(Visited 694 time, 1 visit today)